Last Saturday, Squirrels teamed up with Habitat for Humanity, a world-wide organization that helps provide safe and affordable housing for families in need.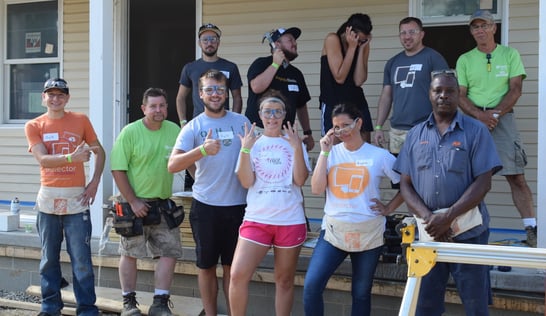 This particular house belonged to Jonnie, a father of two looking to make a new start for his family in a better area. We took the time to help Jonnie build his new home and to hear about his journey. He told us his background, his involvement with Habitat for Humanity and about the home owner program he is completing. Not only does Habitat for Humanity build and restore homes, it teaches potential owners how to be financially responsible and how to care for new homes.
We were tasked with siding one side of the house and finishing the front porch area: complete with soffit, facia and a railing. We think we did a pretty good job, and we can't wait to hear all about Jonnie having a glass of sweet tea on the front porch we helped him build!
https://instagram.com/p/6NWr8CnwkN/?taken-by=airsquirrels
For more information on how you can volunteer with Habitat for Humanity in your area, visit their website to learn more about how to get involved. We'll be doing more with habitat later this year!