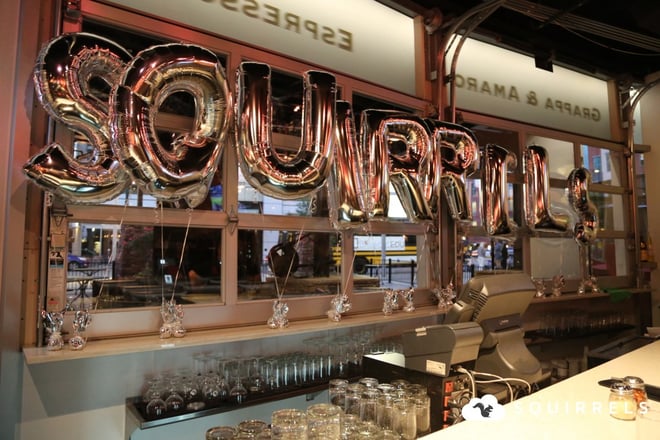 What a week! The Squirrels crew has returned to our Northeast Ohio headquarters after spending a whirlwind week in the mile-high city of Denver for the International Society of Technology in Education (ISTE) Conference and Expo. The attendees were exceptional, the exhibitors were impressive and the memories were unforgettable. ISTE 2016 was our best conference yet!
While we push forward to prepare for what's next, we want to reflect on the incredible experience that was ISTE 2016.
Our 3D-printed, custom-made booth that we designed and built ourselves (if you attended ISTE, we were what many referred to us as the "Tree Booth") required a lot of man power. That's why we took 15 of our Squirrels team members to lend a helping hand and join in on this experience. It truly was a team effort, and we couldn't be happier with the outcome.
One aspect that made this ISTE experience stand out from past years is that we were able to demo and unveil a new product that will be in classrooms all around the world this fall. Showcasing this new product next to our flagship apps, Reflector 2 and AirParrot 2, allowed educators to see how our screen-mirroring solutions have evolved and how they'll transform the classroom.
We were fortunate to be able to pack so many memories and experiences into three days. Here are some of the highlights.
Alpha Squirrel social
This year we debuted our first-annual Alpha Squirrel social at Pizza Republica. It was rewarding to be in an intimate setting with the educators who love and use our apps. Plus, how could a memory involving pizza not be a fan favorite?
Scavenger hunt
We 3D-printed tiny acorns (of course we had to keep with our forest theme) and hid them around the ISTE expo hall. People who found the acorns could bring them back to the Squirrels booth to redeem for a free license of Reflector 2. Watching attendees scurry to find them was comical, but giving educators the opportunity to try out our popular classroom screen-mirroring solution was what made the scavenger hunt worthwhile.
Squirrels speakers
We were grateful to the EdTech experts who presented at our booth throughout the duration of the conference. Hearing influential tips and tricks from these industry leaders was an added bonus to anyone who stopped by the Squirrels booth. We hope this is something that will continue in San Antonio for ISTE 2017.
The tree
Watching the look of amazement on attendees faces as they approached our booth was a proud moment for us. It was nice to see the attendees appreciate our efforts after months of hard work. That look was even pretty common on all of our faces when we got a moment to marvel at our 18-foot tree. In fact, it even helped us win the award for best booth at ISTE 2016.
Ok, so maybe that's not a real award, but we like to imagine we would have won it if that type of honor existed.
$1,000+ prize pack
Our iPad prize pack created a buzz around the expo hall, as everyone wanted a chance to win our giveaway that included an iPad Pro, Apple Pencil, Beats by Dr. Dre speaker, carrying case and a $50 iTunes gift card. Although, there were thousands of entries, there was only one lucky winner.
Building relationships
Meeting and connecting with so many talented and passionate educators from all around the world was the most rewarding part of it all. We don't often get the chance to engage face-to-face with educators, so when we get an opportunity like ISTE, we gladly seize it.
Thank you to all of the attendees, exhibitors and ISTE staff who helped make this conference one to remember! We are grateful to be part of the EdTech community and lucky to be surrounded by such outstanding professionals.
We hope to see everyone next year in San Antonio for ISTE 2017!