Our latest advancement in screen-mirroring technology allows students to use their iPads and iPhones to see their teacher's computer screen in real time. It also provides new connection methods in schools with restrictive networks. Oh yes, teacher friends. We're excited about it, too.
Reflector Student is a free Reflector 2 companion app that runs on each student's
iOS device. The app wirelessly communicates with the Reflector 2 software running on the teacher's computer to display a live look at the teacher's screen on every connected student device.
Reflector Student decreases classroom reliance on SMART boards and projectors and enables schools to get more out of their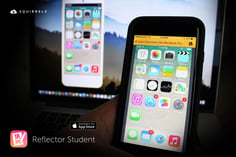 mobile devices. Students can now view the same websites, videos, peer work and presentations displayed on the big screen in the palm of their hands. This reduces the strain on students with visibility issues. It also allows teachers to show students what's happening on their classmates' screens.
The Reflector Student app acts as a workaround for schools that experience Reflector 2 connectivity problems. It should resolve issues for schools that host their student and teacher devices on separate networks. New Reflector 2 connection methods include:
Bluetooth discovery
Quick Connect Codes™
iOS camera linking
We know educators are always looking for the latest and greatest technology to keep their classrooms ahead of the curve. That's why we're constantly working on new screen-mirroring solutions to bring to your students.
Stay tuned for more updates. As always, feel free to offer suggestions or feedback in the comment section below. We love to hear from our friends and fans!
Click here for more information about Reflector Student.