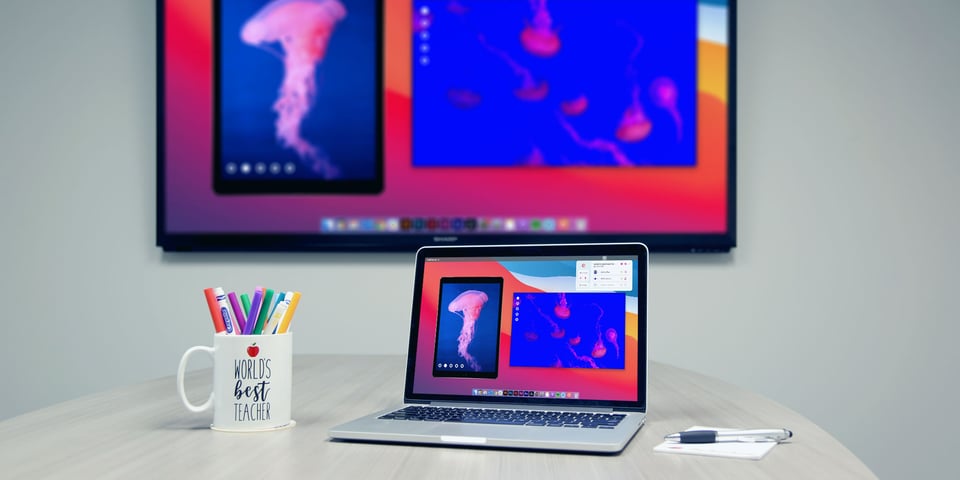 What's one of the most vital teaching techniques today? Sharing your screen. The digital content you teach in class needs to be easily accessible and clearly visible to all.
If you need to show student work, present a slideshow or demo augmented reality (AR) and virtual reality (VR), what's the best way to quickly share that content in front of the class?
This blog will you show you how to wirelessly share content to the big screen.
Welcome to a bite-sized new series on the Squirrels blog all about tools and techniques educators can use to share immersive, visual content in the classroom. We'll primarily focus on teaching and sharing AR/VR experiences, so stay tuned for the next post in this series! This first post focuses on setting up the technology you will use to wirelessly share those experiences. Read part two here.
This series is created by Alpha Squirrel Christine Danhoff. An Ohio-based educator and member of the Alpha Squirrel program, Christine is an ambassador for Squirrels and is an expert on developing creative ways to educate students and other educators with technology.
Use Reflector to quickly share your screen for everyone to see
The best way for everyone to see your screen is with Reflector screen mirroring software. This simple app is a great tool to display visual content. While it doesn't use AR/VR itself, this is the app you need if you want to wirelessly share your AR/VR experience with a large group of students.
Reflector is an app for your computer — you can wirelessly screen mirror your phone, tablet or another computer straight to this desktop app. Connect your computer to the primary display in your classroom via cable and in seconds everyone will immerse themselves in snowy mountain ranges, exploding stars, Egyptian pyramids and more.
Here's a quick start guide to using Reflector:
Download and install the Reflector app on your computer.
Make sure all of your devices are on the same wifi network.
Open Reflector on your computer and wirelessly connect your iPhone, iPad, Mac, Chromebook, Android or Windows device using built-in screen mirroring (AirPlay, Google Cast, Miracast).
Demonstrate apps, present slideshows and share other audiovisual content to your students.
The next post in this series explores the best augmented reality tool for beginners. Read it here.
Educators around the world use Reflector
Replace document cameras, show AR/VR and wirelessly mirror devices to the big screen.
BUY
$19.99