Reflector Teacher has quickly become an indispensable tool in the classroom.
Displaying an iPad to a class or small group of students can be done by mirroring to a device connected to a projector. Most classrooms already have the equipment needed to do this. You can try it free, too.
Eliminate the need for expensive visualizers and document cameras
Reflector gives teachers the ability to move around the classroom while teaching. Instead of being tied to a desk, educators can interact and engage directly with students. Many teachers find Reflector to be an effective mobile visualizer, or document camera.
Here's how Alpha Squirrel Zee Ann Poerio uses Reflector to visualize student work in her class:
Another way we used @ReflectorApp and @padcaster today - I was able to give whole class a view of BeeBots on the big screen! pic.twitter.com/Jaud430ZSB

— Zee Ann Poerio (@magistrazee) April 10, 2018
When a teacher is interacting with students and recognizes work that could benefit the class, Reflector allows the teacher to stop and show the class what that student is doing. This can be particularly helpful when showing steps to solve a math problem.
Brian Meehan, Director of IT at Allendale Columbia School, described the use of Reflector in Geometry.
Students studying geometry take pictures of objects in their lives. Then we launch 2 or 3 windows of Reflector on the teacher laptop (connected to a smartboard) and students use the SMART tools to measure angles and congruency.
Below, @MrMiahScience demonstrates Reflector on a white board.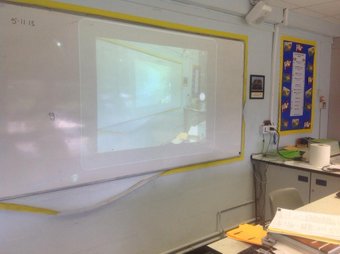 Using an AirPlay receiver to flip the classroom.
Reflector puts students in charge of the classroom. Students can create work that can be shown to an entire classroom without complicated setups.
Sharan Shah, Head of Grade Seven, Avenues: The World School explained:
With Reflector, I'm not always the one in charge of what is being shared on the screen. It's another way of moving into a student-centered classroom.
Reflector makes handing off a lesson to students easy, and it's more engaging than traditional learning. Students have the ability to project directly from their seats.
Giving students the power to teach the class is engaging and challenges traditional teaching methods. Instead of paper flash cards, students can go head-to-head isolating word problems. Students can explain geographical areas with interactive maps, or they can browse through timelines explaining certain points they chose. Reports exploring the animal kingdom or ancient Rome can be shared with the entire class by any student.
Using Reflector to monitor students
Amy Burns, a music educator in Far Hills, NJ, explains her use of Reflector in the class room at her blog. She's using Reflector to keep track of her students' progress on projects by projecting their iPads to a SMART board. For more privacy, she can turn the board off and monitor directly from her laptop screen.
An Apple TV AirPlay receiver alternative
At $99, the Apple TV may be too expensive for some education environments. Reflector works on almost any computer, and if a classroom is equipped with a projector and computer, Reflector can engage every student at the same time.
Reflector is an inexpensive AirPlay receiver available for $14.99. Educational and bulk rates are available to help schools make purchases. Not only is Reflector much less expensive than hardware devices, it replaces fragile dongles, cables, adapters and other pieces of expensive hardware. These extra pieces are often lost among students and staff. Reflector stays put and is managed directly by IT staff.
Other samples of Reflector in the classroom include:
Watch and comment on YouTube videos
Stream music from a mobile device to desktop speakers
Annotate documents with students in real time
Display photos of other student work
Demonstrate apps
Use whiteboard apps to explain ideas
Create video tutorials for students to follow
We're finding new uses for Reflector in the classroom every day. Have your own use? Tweet @ReflectorApp and let us know!
Try Reflector Teacher for free today.