Purchasing software for an entire school or university often leaves you with hundreds or thousands of product licenses that need to be distributed to campus facilities, professors and students. If you've been in the education technology business for long, you understand distributions of this size can become complex quickly.
We make it easy for schools and universities to distribute large quantities of our AirParrot 2 desktop screen-mirroring software by providing several distribution options.
Option 1: Ideal for distributing AirParrot 2 to university-owned computers
We provide one universal AirParrot 2 license key in instances where the software needs to be distributed to university-owned computers. The software can automatically be deployed to every computer using this distribution method.
Option 2: Ideal for distributing AirParrot 2 to students and professors
After placing an AirParrot bulk order, we can conveniently send a unique promo code for each user license required. From there, you can distribute the promo codes among the users. Each user can then go to our website, enter the one-time promo code and download AirParrot 2.
This process is more beneficial for a university than sending one universal license for the entire order because it reduces the risk of license abuse. Each license is registered to a specific user rather than the university as a whole, so it will be easy to identify the offending individual if necessary. This helps prevent potential license abuse cases such as:
A user posting his or her license key online
A user giving his or her license key to friends and family
A user illegally selling his or her license key
Bulk Pricing
We provide bulk pricing and combo bulk pricing as well. If you purchase a bulk order of AirParrot 2 and later determine you need more licenses, we'll count all previous purchases toward your reduced-rate bulk pricing so you get the best possible value.
AirParrot 2 costs $12.99 in our online store. The AirParrot 2 bulk pricing tier can be found below.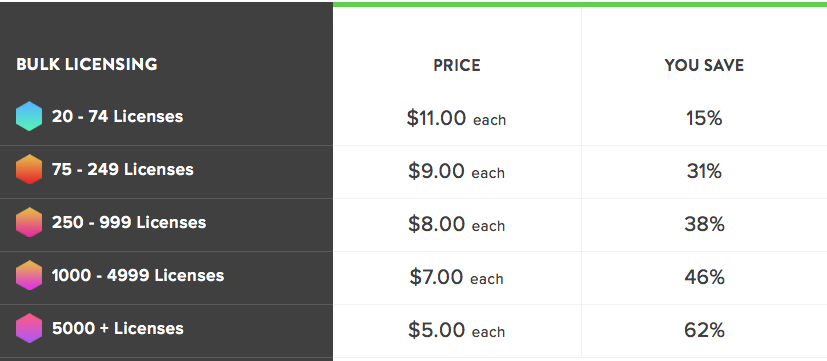 For more information about AirParrot 2, visit http://www.airsquirrels.com/airparrot/. Click the "Request a Quote" link on this page if you would like to contact one of our representatives with pricing inquiries.
Check out our new AirParrot 2 iOS companion app, AirParrot Remote. It allows users to control AirParrot 2 from their iPhone, iPad or iPod Touch.
As always, don't hesitate to let us know if you have any comments or questions in the replies below!