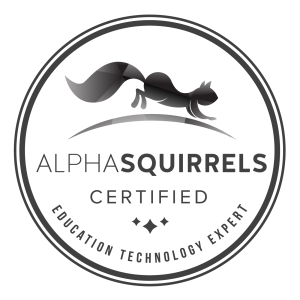 We're excited to announce that we have selected our second class of Alpha Squirrels EdTech Experts!
This class of thought leaders and Squirrels advocates is made up of 19 teachers, principals, EdTech specialists, instructional designers, digital learning specialists and tech resource coordinators. They come from all over the United States, including Florida, Georgia, Indiana, Maryland, Michigan, Mississippi, Missouri, New York, North Carolina, Ohio and Tennessee. We also added our second Alpha Squirrel based in the United Kingdom!
Check out our full list of Alpha Squirrels team members!
These individuals are experts and advocates for the global EdTech community. Alpha Squirrels attend and speak at industry conferences around the world to introduce fellow educators to the Squirrels suite of classroom screen-mirroring solutions. You can catch some of them presenting at ISTE in Denver and many other edcamps and conferences around the world in 2016.
Don't worry – they talk about much more than our products. Alpha Squirrels might use or mention our apps during a presentation, but sometimes they aren't included in the presentations at all! We want our Alpha Squirrels to be well-rounded EdTech thought leaders. Our goal is to assist them in their professional development journey and provide them with resources to help other educators improve the student learning experience.
In addition to Squirrels-sponsored conference attendance and speaking engagements, Alpha Squirrels receive:
Access to unreleased Squirrels products
Squirrels welcome package – T-Shirt, coffee mug/tumbler, sticky notes, water bottle, headphones, pens, pencils, etc.
Video interview opportunities
Free AirParrot 2 and Reflector 2 licenses
An Alpha Squirrels member certificate
"Alpha Squirrel" signature badges for Twitter, Facebook and email
Product training, press kits and talking points
A chance to visit Squirrels Headquarters
On-demand interaction with Squirrels product designers and managers
Congrats to all of our new Alpha Squirrels! We're proud to have you represent us in the EdTech community.
Are you a teacher or EdTech professional interested in becoming a certified Alpha Squirrel? Contact Emily Carle Hafer at alpha@airsquirrels.com for information about our next class of Alpha Squirrels.