Update: Check out Reflector Teacher, a new version of Reflector built specifically for the classroom.
We're proud to say that Reflector 2 is now in more than 100,000 classrooms across the world! Educators use it as an affordable way to quickly, conveniently and wirelessly display mobile devices to larger screens in the classroom.
What often gets overlooked is that there are certain Reflector 2 settings educators can take advantage of to make it ideal for the classroom. The following is a list of settings that will optimize our Reflector 2 screen-mirroring technology for use in any classroom environment.
Broadcast Name
Since Reflector 2 runs on the teacher's Mac or Windows computer, the teacher should change the Reflector 2 Broadcast Name to his or her name. This will allow the students to easily identify the appropriate computer to connect their mobile devices.
Example: Instead of naming the computer "Computer 1314" or using the teacher's first name, use something more specific like "Mrs. Smith's Computer."
Click the Reflector 2 icon near your computer's clock and then click on the gear wheel in the bottom right corner to access Reflector 2 preferences. After that, click "General." From there, you can edit your computer's Broadcast Name.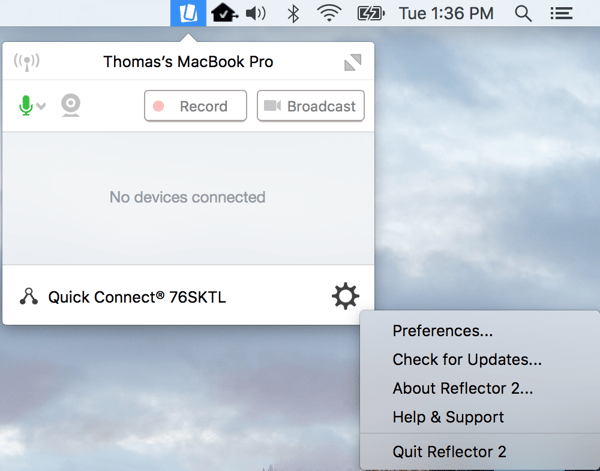 Show Client Name
We recommend you set the "Show Client Name" option to "Always." When a student or teacher connects a mobile device (such as an iPad, iPhone, Android device, Chromebook or Surface Pro) to Reflector 2, the device name will appear and stay on the computer screen. This will show the teacher which students are connected and displaying content to Reflector 2.
Go to Preferences> General > Show Client Name > Always
Connection preferences
We recommend that teachers change the connection preference to "Connect and Hide." When this preference is turned on, a device will not be automatically shown on the screen when it connects to Reflector 2. The teacher can choose to show or hide each device from the Reflector 2 control panel. Turning "Connect and Hide" on prevents students and other teachers from interrupting class by displaying their device on the big screen when it isn't meant to be displayed.
Go to Preferences > Connection > On Connection > Connect and Hide Device
Enable AirPlay and Cast Connections
We recommended that teachers enable both AirPlay and Google Cast device connections in Reflector 2. Enabling AirPlay connections allows students with iPads, iPhones and iPod Touch devices to connect to Reflector 2. Enabling Google Cast connections allows students using Chromebooks and most Android devices to connect.
Students using Surface Pros must download AirParrot 2 onto their Surface tablet since Surface Pros do not have AirPlay or Cast technology built in. AirParrot 2 adds AirPlay and Cast technology to Surface Pros to enable wireless streaming and mirroring to Reflector 2, Apple TV or Chromecast.
Go to Preferences > Advanced > AirPlay/Google Cast > Enabled
Set Reflector to "Always on top"
This setting will automatically place your mirrored devices on top of all other open windows and applications.
Go to Preferences > General > Click "Always on top"
Director and Student - "Allow to discover this device"
Reflector Director ($6.99) and Reflector Student (free) are our Reflector 2 companion apps.
Reflector Director is an app that turns a teacher's iPad or iPhone into a remote for Reflector 2. Teachers can access the Reflector 2 controls from their mobile device. This allows them to walk around the room while remaining in control of Reflector 2 rather than being anchored at the computer.
Reflector Student is an app for student iPads and iPhones. It shows students the same Reflector 2 display that the teacher sees on the computer. It also provides connectivity alternatives for schools with restrictive networks.
There are two steps for this one:
Go to Preferences > Director > "Allow to discover"
Go to Preferences > Student > "Allow to discover"