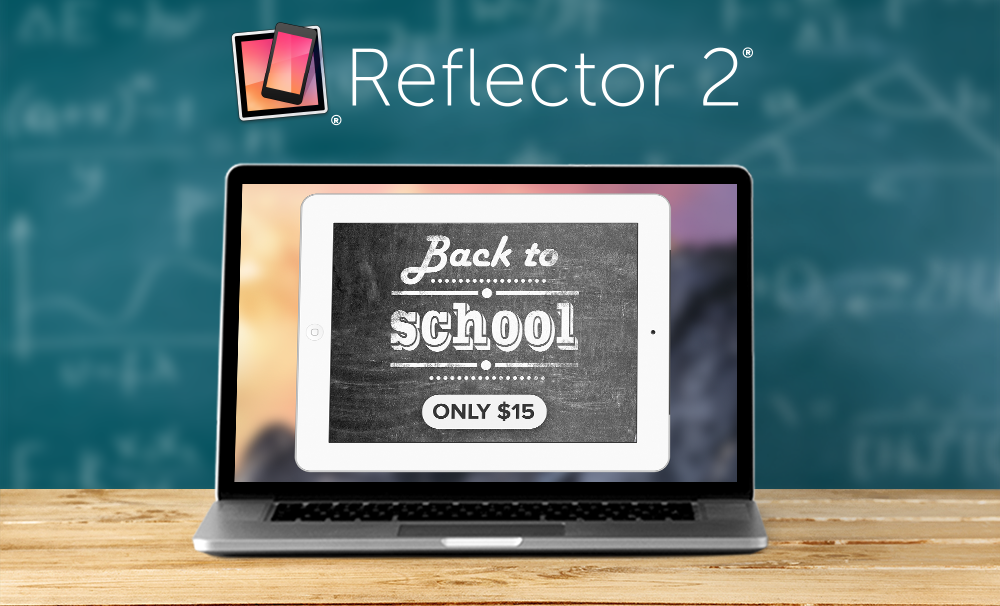 If you are an educator looking for a cost-effective way to make mobile devices a more valuable part of the student learning experience, you've come to the right place.
You know how kids go shopping with their parents to pick up supplies before the school year begins? Teachers shop for supplies, too. Except, due to limited funding, they often end up spending their own money to purchase EdTech tools that improve the lives of our children. Oh, and these tools usually cost a lot more than notebooks, pencils and lunch boxes.
But not every popular EdTech tool breaks the bank.
Reflector 2 is $15 software created by Squirrels LLC that runs on the teacher's computer and allows students to wirelessly display their iPads, iPhones, Chromebooks and Android devices onto the teacher's computer screen.
A one-time cost of $15 per classroom makes it a modern-day unicorn… a rare budget-friendly classroom tool in an education market filled with price tags that frequently reach hundreds and thousands of dollars.
Yeah, we know what you're thinking. "Of course you think Reflector is the best thing since sliced bread. You are the company that made it, after all."
While we're obviously a little biased, we're not alone! We hear from teachers every day who tell us how much they love Reflector and appreciate what it has done to increase collaboration and sharing in their classroom.
Educators On Reflector 2
Here are a few of the sentiments educators have shared with us via our Reflector Twitter account.
Just bought Reflector 2 to mirror my phone to my computer. Works flawlessly: https://t.co/oNcIamFxWi #edtech

— Bill Ferriter (@plugusin) August 9, 2016
@ReflectorApp @bigguyinabowtie I love reflector. Students are amazed when you can project wirelessly. — Mr. Terborg (@mrterborg) March 11, 2016
Really appreciate the quick support from @ReflectorApp today. Great product/awesome support. #edtech — John Hardison (@JohnHardison1) July 25, 2016
@ReflectorApp No problem, it's a great app you've made. Really useful in schools- saves the lag time between connecting iPads to Apple TV — John Hart (@jonnyADE) May 23, 2016
@ReflectorApp is so COOL. @SAlexander3k5g is rocking using it to present Ss projects. #sulsprisd pic.twitter.com/Bu8iWLoBv0

— Brooke Doughtie (@TechyDoughtie) May 18, 2016
Reflector 2 is perfect for any classroom with mobile devices. Educators in 1:1, BYOD and flipped/blended learning environments use it to wirelessly share both teacher and student device screens. Most teachers open Reflector on their computer, then connect their computer to a projector so the entire class can see what is happening on any mobile device that is wirelessly connected to Reflector.
Better yet, Reflector allows multiple mobile devices to connect to the teacher's computer simultaneously. A mix of student and teacher iOS, Android, Chromebook and Surface Pro* devices can all be mirrored to Reflector at the same time.
AND EVEN BETTER YET… Every Reflector session can be recorded. That's right. Teachers can record connected student mobile device screens directly from their computer. This is ideal when a student is giving a presentation from a mobile device, or when a teacher would like to pre-record a lesson ahead of time to play for the class later.
Tech Tips For Teachers
Reflector 2 was recently featured in a Tech Tips For Teachers article. Author Becky Shiring said that Reflector is a tool she desperately wishes she discovered while she was still in the classroom. The following is an excerpt from the article:
"While in the classroom, when I found an app I wanted my students to be aware of, I can remember painfully trying to walk students through finding the app in the app store, downloading it, opening it, signing in and then using it, all while circulating the room demonstrating from my tiny cell phone screen. It was exhausting. Not to mention that some students used Android and others iOS. This frustration could have been eased with Reflector 2."
If you would like to learn more about Reflector 2, you can watch our "How To" videos including How to Connect to Reflector 2 and How to Record Mirrored Devices on our YouTube channel. Or, you can visit our website to learn more about Reflector in the classroom.
As always, feel free to leave any questions or feedback in the comments section below.
*Microsoft Surface Pros require our sister app, AirParrot 2, to wirelessly connect to the teacher's computer because Surface Pros do not come equipped with a native screen-sharing functionality such as Apple's AirPlay or the Chromebook/Android Cast technology.