This is the first of a three-part blog series* featuring Alpha Squirrel EdTech Expert Marc Faulder. Marc is an educator and Interactive Technologies Leader at Burton Joyce Primary School in the U.K. He has spent the past two years working with the University of Nottingham in England on a research project about using tablets and math apps to close the math gap for marginalized students. They used math apps from onebillion, a London-based nonprofit, to measure the impact that this intervention has on learning.
Marc is traveling to Brazil with his team to continue the research project and scope out the possibility of launching the onebillion initiative in Brazil. They'll also train teachers on the use of technology in the classroom.
The Journey to Brazil
Today I travel to Recife, Brazil, and it feels like the beginning of a great adventure. But whilst I wait for my connecting flight to Sao Paulo from Amsterdam, I look back at the 18 months which led up to this moment.
Unlocking Talent Through Tablet Technology
Unlocking Talent is a research project supported by Voluntary Service Overseas (VSO) and the Norwegian Government. Led by the University of Nottingham in England, the project evaluates how onebillion is using innovative math apps to give marginalized children access to this critical math education. The apps allow children to learn at their own pace and in their own language. Beginning in the African country of Malawi, this research found that from six weeks of using the apps, children received the equivalent of 18 months of learning gains in math skills.
As this research continued, the university and onebillion questioned whether or not this way of working could be replicated beyond Malawi. This is where I joined the team. We ran a pilot study across the schools in the federation that I work for. We found similar learning gains here, as well as in other small-scale pilot studies from U.K. schools. In June, we launched the U.K.'s first large-scale evaluation of tablet technology and math attainment.
The apps are used with Early Years children that have been identified as working below age-related expectations. They work on activities set by the teacher in the app for up to 30 minutes a day. The learning is 1:1, personalized and self-paced. These children use this app as well as normal teaching practices and traditional interventions. When combined like this, the learning gains have been huge.
The findings from the initial U.K. pilot studies can be found here.
A Cross-Cultural Study
Today I travel to Brazil with Dr. Nicola Pitchford, an associate professor at the University of Nottingham, and Laura Outhwaite, a Ph.D. student in the School of Psychology at the University of Nottingham. These two have been instrumental in the success of the research in both the U.K. and Malawi. Our initial trip to Brazil is a scoping visit and came about following a visit from researchers from CESAR Recife, an innovation centre that promotes transformation through technology, back in January. Marie Neves and Flavia Nascimento came from Recife to Nottingham to observe best practices in my classroom using both onebillion software and iPads to enhance learning. You can read more about this visit here: https://enabling-environments.co.uk/2016/01/19/brazil/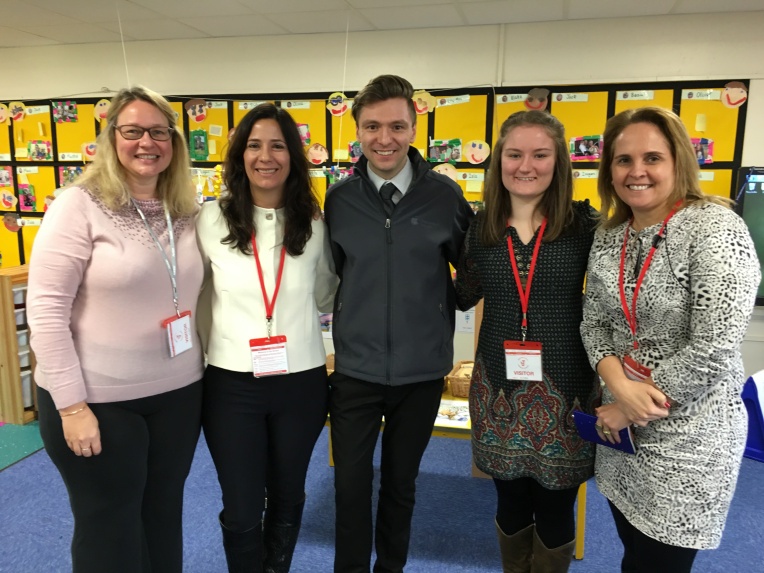 Inspired by what they saw and with a good knowledge of the schools they work with in Recife, Marie invited us to partner with CESAR and look into the possibility of bringing onebillion to their schools.
During our initial trip this November, we'll meet with teacher training institutions, local and state government representatives and Portuguese schools in the area. Marie and I have also organized a conference for 30 teachers where they can learn some ways to best use iPads in the classroom and how to maximize learning gains when embedding this practice in a learning environment.
A Chance to Reflect
There is much to learn on this visit. Plenty of time in this trip has been dedicated to meeting professionals and observing current practices in Recife schools. This visit is about hearing teachers' stories and learning about their ways of closing the gap in math. Our purpose in these conversations is to exchange knowledge and share what we are finding in the U.K. and Malawi.
The most exciting part of this trip for me is looking at different learning contexts from the same perspective; closing the gap in math. It's easy to look beyond your home country and see what is different. But to make comparisons based on learning gains for math provides a common ground for any teacher, no matter what the context is. What are we doing to support the children who are working below age-related expectations? Whether this be 10 children in a class of 30 in the U.K., or 80 in a class of 100 in Malawi, teachers are united by the way in which will tackle this issue. Being able to share the same resources to close our gaps is such an exciting way to collaborate and bring these school contexts together.
I look forward to sharing more of my visit with you as it unfolds over the next two weeks.
*Marc submitted this post to Squirrels on October 24, 2016. You can contact Marc and follow his adventure on Twitter.