This is the third post in a three-part blog series* featuring Alpha Squirrel EdTech Expert Marc Faulder. Marc is an educator and Interactive Technologies Leader at Burton Joyce Primary School in the U.K. He has spent the past two years working with the University of Nottingham in England on a research project about closing the math gap for marginalized students using tablets and math apps. They used math apps from onebillion, a London-based nonprofit, to measure the impact that this intervention has on learning.
Marc is traveling to Brazil with his team to continue the research project and scope out the possibility of launching the onebillion initiative in Brazil. They'll also train teachers on the use of technology in the classroom. Read part one and part two of Marc's journey.
Oh, Brazil
Our time in Brazil wrapped up with a visit at the mayor's office and a meeting with the University of Pernambuco at the British Consulate. Both of these meetings were organized to plan for the future. Great progress has been made with local schools and partners here over the last 13 days. Moving forward with the onebillion math intervention seems likely. On my final visit to ABA Global school, I was presented with a gift from Francisco Gomes de Matos, peace linguist and President of the Board at ABA Global Education:
"Oh, Brazil, about you what can I foresee well? You will be internationally admired. You will be educationally developed. You will be scientifically and technologically advanced. You will be interculturally comprehended."
This resonates with me and our trip here. This articulates our goal to work with Brazil and assures me that Brazil makes a perfect partner for our projects and research.
In my first blog post, I explained three projects we brought to Brazil:
Closing the Gap in Math – "How can mobile technology and the onebillion software support marginalized learners?"
In March 2017, Laura Outhwaite (Ph.D. student in the School of Psychology at the University of Nottingham) will return to Recife, Brazil, to work with ABA and DAMAS schools to pre-test children. Teachers will then implement the math gap intervention for 12 weeks. This will happen in English, Portuguese and with a control class – a design based on an international model used in England, Canada, South Africa and Malawi. During my visit, teachers have been trained to use the onebillion software. They are excited about this intervention. The teachers have also had a hand in designing the study so that it works with their curriculum and timetable. Laura will return again in June 2017 for a post-test and to receive feedback from teachers. Afterwards, the findings will be included in an international, cross-cultural evaluation of the software. And as the research is teacher-led, the schools will continue using the software and support the likely expansion of this project in Recife. Beyond the pilot study, there has been great interest with other partners in this work. We look forward to the possibility of expanding this project beyond the pilot study.
Stories of a Lifetime – "How might we keep local legends, myths and fables alive while also sharing our place in the world?"
ABA and DAMAS schools both joined the project, and in our second week here a third school, Red Balloon in San Paulo, Brazil, joined as well. These three schools will use the project with different aged children who will research and retell folklore from Brazil and Recife. On my final project day in Recife, I taught a group of children at ABA Global School. Part of this lesson time introduced them to the Stories of a Lifetime project. They learned the story of Robin Hood, designed their characters and retold the story in their own words using Puppet Pals. I will share this response to the story back in my school with Digital Leaders and upload this work to the Stories of a Lifetime website.
Connecting Classes Across Continents – "How might we develop deeper understanding through the use of global connections to broaden learners' perspectives?"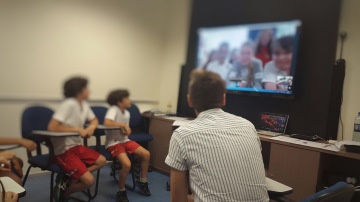 In my second week, I returned to ABA Global School to work with a group of Year Five children on this project. They spent time with me learning about Nottingham and they read the book about Burton Joyce, authored by Year Six children form my school. They met with the Burton Joyce children over FaceTime and exchanged knowledge about their place in the world. Following this visit, they will work on their own school book to share with Burton Joyce children and a second call will take place when I return to work. These two books will be combined as a case study text and published to the iBooks Store in the same style as the collaborative book my school published with St. Francis Xavier, Goa.
I have learned that visiting schools is a great way to share knowledge and expertise. Being in a setting gives many more opportunities to collaborate and provide practical ideas bespoke to that place. I've learned this through my own consultancy role in England and from managing the Apple Regional Training Centre in Nottingham. Applying this to an international context has been a beneficial way to further develop my skills as a leader and advocate of educational technology.
An international visit is much different to working with schools at home. Even though we had an agenda planned, opportunities arose that were unexpected. New relationships brought about detailed discussions that allowed our plans to evolve quickly. We had no contacts to rural schools before this trip, but we were able to make a visit because of the relationships we formed in our first few days. The advice from The British Consulate gave new avenues for collaboration beyond our visit. We have so many more contacts and ideas to explore now.
Meeting teachers in schools with technology gave new opportunities for me to share my projects and develop them in new, exciting ways with educators beyond the Apple Distinguished Educator network. Our priority was to launch a pilot study of the onebillion software in Recife, and this was finalized by the end of our trip with training provided to teachers and an implementation designed with school coordinators.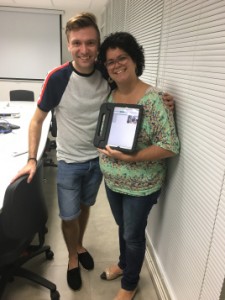 Working with researchers and academics has been very interesting as well. My partnership with The University of Nottingham began over 18 months ago with the evaluation of the onebillion apps in the U.K. I've been involved in study design, implementation and evaluation of this research in the U.K. To have an involvement in the beginnings of a new pilot study in Brazil is very rewarding. I offered my own, first-hand knowledge and experience as a teacher and leader who has implemented a similar, successful pilot study. I explained the positive impact this study had on the children that I teach in math and other areas of learning. I look forward to offering support to these educators as they begin implementing their pilot of the onebillion software in Recife.
Working internationally has taught me three things:
Time is precious
Relationships are key to success
The work is hard
Moments of high energy and inspiration are met with moments of complications or exhaustion. Problem solving, decision making and patience are needed as agendas change and challenges arise. Our plan altered on a daily basis. We were always on the go preparing for the next unexpected meeting whilst reflecting on the one we had just had. But when you see the children who deserve quality education, and you believe that technology can unlock talent, you know that the hard work for these children will pay off.
As I board my first of three flights back to the U.K., I leave Recife looking forward to collaborating with all of the friends I have met here. I look forward to seeing Connecting Classes grow with a new link school and case study publication growth. I look forward to seeing Brazilian legends told in Stories of a Lifetime. And I look forward to working on Brazil's first pilot of the onebillion software in March 2017.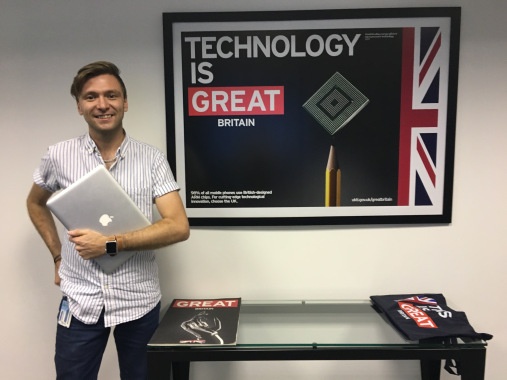 "Oh, Brazil, what will be your legacy to every coming generation? Oh, Brazil, may all of these things happen to you; may you inspire Brazilians only good things to do"
I would like to thank Squirrels for their support with this visit, for sharing my story and showcasing what is possible when technology enables quality learning. I need to thank the Apple Distinguished Educators who work tirelessly on projects which have a truly global reach. I thank them for committing their own time to these innovations and for encouraging me to share them beyond our community. I also send much love to Marie Neves for her friendship before, during and after this trip; see you in December! And also to Ricardo; our dedicated driver, intelligent interpreter and gracious guide.

I must end with a thank you to my partners at The University of Nottingham, particularly Dr. Nicola Pitchford. The time that you invest in my work, and the support you give me, means so much. This trip has been a career highlight. Thank You.
*Marc submitted this post to Squirrels on November 3, 2016. You can contact Marc and follow his education journey on Twitter.