This is the third installment of a three-part guest post series from Technology Integrationist Angie Kalthoff analyzing computer science in the K-12 education system. Read part one, Are We Too Late For Computer Science Education?, and part two, How To Teach Computer Science If You're Not A Computer Scientist.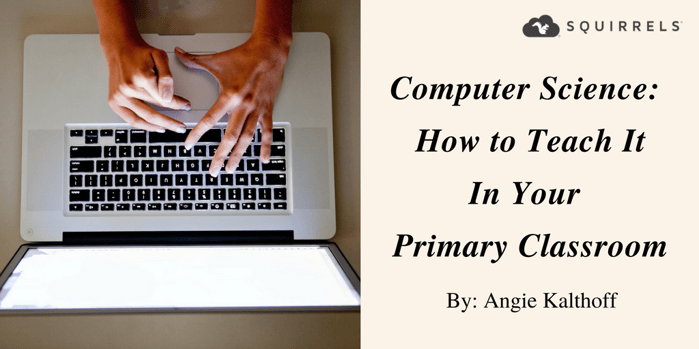 In 2017, I received a grant that supported our district's efforts to implement computational thinking in the K-5 classroom. In order to achieve a successful implementation, we needed to consider how our approach to computational thinking would complement:
State standards
District curriculum
Our team, consisting of teachers, media specialists and various other education professionals, created a scope and sequence for each grade level that incorporated both plugged and unplugged activities.
In this post, I will share with you lessons to take back to your classroom that we have found useful. To learn more about the grant, you can reach out to me on Twitter @mrskalthoff.
State standards and district curriculum
As a reference point, I've included state standards that we considered when developing our computational thinking lessons.
English language arts standards state that students should be able to:
Participate in collaborative conversations
Create individual or shared multimedia work for a specific purpose
Add drawings or other visual displays to descriptions to clarify ideas, thoughts and feelings
Mathematics standards state that students should be able to:

Solve and represent real-world and mathematical addition and subtraction problems
Understand how to interpret number sentences
Understand the relationship between the size of a unit of measurement and the number of units needed to measure
Computer Science Framework
We focused on the following concepts and subconcepts of the Computer Science Framework. Lessons are provided for each.

Algorithms
When students understand the relationship between algorithms and programs, they can take a list of instructions and encode it into a language. By the end of 2nd grade, the computer science framework states students should know that people follow and create processes as part of daily life. Many of these processes can be expressed as algorithms that computers can follow. Impacts of computing
Computing technology has positively and negatively changed the way people live and work. Computing devices can be used for entertainment and as productivity tools, and they can affect relationships and lifestyles. Debugging
Computing systems might not work as expected because of hardware or software problems. Clearly describing a problem is the first step toward finding a solution. Devices
People use computing devices to perform a variety of tasks accurately and quickly. Computing devices interpret and follow the instructions they are given literally.

Additional lessons can be found at https://hourofcode.com/us/learn.

Acknowledgments
I would like to thank the wonderful group of classroom teachers, media specialists and various other education professionals that I was able to collaborate with on lesson creation and implementation.

Teachers
Brenda Thielen, Sally Davidson, Lindsey Nagorski, Jodi Heinen, Cathy Bautch, Amy Jensen, Julie Nefs, Brandi Richards, Kelli Ritter, Ted Hanson, Pam Holubetz, Eric Maas

Media Specialists
Jenny McNew, Linda Hollenkamp, Jennifer Dahlstrom-Lage, Cole Bacon, Sara Martini, Jessica Moore, Holly Nelson, Paul Olsen

Specialists
Amanda Anderson, Jason Menth, Jodie Kragness

University Partner
Diana Fenton