---
Collaboration is an essential ingredient to education. We're here to tell you about a couple education technology tools you should definitely know about (with reasons why) if you want to boost collaboration in your classroom in the 2017-2018 school year.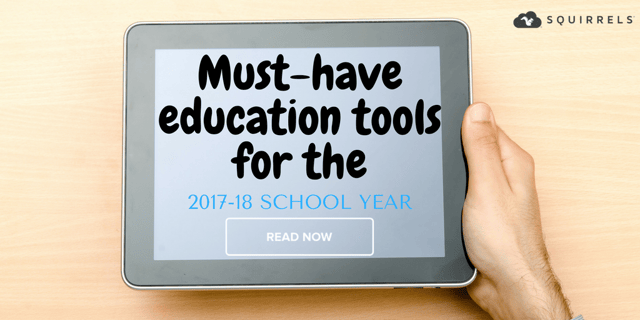 Psst...Short on time? Jump to the bottom of this post to access a free webinar about guiding instruction and promoting collaboration with tech. Watch it now or later.
Imagine two classroom scenarios:
Scenario one
You want students to complete work on their iPads or Chromebooks and show the rest of the class how they came to their solution. But instead of the whole class being able to easily see their work, you all have to huddle around tiny iPad and Chromebook screens.
Everyone squints and strains to see the screen. Or, students have to shuttle their devices to the front of the room to manually plug in. Time is wasted. Students are distracted.
Either way, the group collaboration effort falls flat.
Sound familiar?
Scenario two
While your students are working on classroom devices, a few of them venture onto Facebook, YouTube or any other distracting website or app.
Attention and focus is lost, and the most valuable finite resource in education -- learning time -- has been wasted.
Does this one sound familiar, too?
Education tools for the 2017-2018 school year
Two must-have EdTech tools will turn these problems into nothing more than bad memories.

Reflector 2
Instead of straining your eyes toward the 9.7-inch iPad screen to see how students solved a problem, use the
to wirelessly share their work on the big screen with the entire class. Better yet, share (or record) any number of student devices with the class simultaneously, regardless of the device they are using.
How it works
Reflector is downloaded on a teacher's Mac or Windows computer. iOS, Chromebook and Android devices can wirelessly display on the Reflector-enabled computer. Most teachers connect their computer to a projector or interactive whiteboard while running Reflector so the entire class can see what is happening on any wirelessly connected mobile device. Better yet, students don't need any additional software downloaded onto their devices. They connect using native Cast or AirPlay technology that's already built into the devices.
Reflector gives students a sense of pride in their work by showing it on the "big screen." Teachers can actively connect the class, engage students and promote idea sharing by showing work side-by-side, letting students compete in activities and even doing a student/teacher demo. It's a win-win situation.
ClassHub
If students are on Facebook or a distracting app instead of working on an assigned task - no biggie! ClassHub allows teachers to monitor what students are doing on their devices, gauge progress, identify problem-solving techniques and limit distractions.
The best part about ClassHub? There is so much more to this device management solution than just monitoring student devices. You might be surprised to know that ClassHub lets you:
Push content from your computer to one or all student devices in the classroom
Lock students into applications
Install and remove applications on student devices
Open web URLs on student devices
Send alerts
All these features combined create a powerful, robust solution for teachers and administrators to make the most out of classroom technology.
Oh, and remember when we said that Reflector works with a wide variety of classroom devices? So does ClassHub! In fact, ClassHub works with 97% of common classroom devices including iOS, macOS, Windows and Chrome OS. And that's good because schools use many different devices in today's classrooms.
Want to improve classroom collaboration in the 2017-2018 school year? Click on the image below to watch our 5 Fresh Ways To Use Reflector In The Classroom webinar. You'll get tips and tricks from the most innovative educators using Reflector.

Interested in ClassHub?

We'll personally give you a guided tour of the ClassHub device management solution.