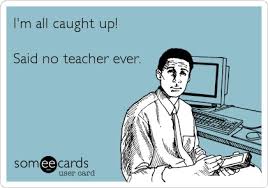 Time spent doing tedious (but necessary) classroom tasks is time taken away from learning. With technological advances, however, you can be more efficient with what limited instructional time you do have. Here are some of the tools that can help you streamline your classroom today!
Beginning and end of the year tasks
The beginning and end of the school year are full of very time-consuming efforts to get to know students, parents and receive feedback. Technology can alleviate this stress by providing an instantaneous platform that can be used by both students and parents on whatever devices they own. Check out this example of a Google Form made by Cheryl Morris (@guster4lovers), given to parents at the beginning of each year to gain more information about them and their student.
Communicating with students and parents outside of school
Staying in contact with students and parents can not only be tedious, but has potential to become inappropriate or abused. With free tools such as Remind, teachers can communicate with students and parents without exchanging phone numbers. Send one-way announcements or start a conversation on any device, safely.
Facilitating entry or exit tickets/quizzes
Writing the questions, making sure each student answers, collecting pieces of paper (a portion of them without names on them)... there's got to be an easier way. Luckily, Kahoot is a free tool that allows teachers to create game-like quizzes. Use these at the beginning or end of your classes to assess student learning instantaneously.
Assigning, passing out and collecting student work
The amount of time and planning it takes to get work to and from students can be made much simpler through online tools. Learning management systems (LMS) are a great way to organize, distribute and collect course content with students from a multitude of devices. Check out this article outlining 8 LMS options and how they can benefit your school.
Presenting student work
Having students log in and out of the same computer or struggle to hard wire each of their devices is a struggle in every classroom. With screen receiver tools like Reflector, both teachers and students can share their screens wirelessly from anywhere in the room, separately or simultaneously. With an army of innovative features, Reflector is the perfect addition to any classroom environment to streamline the sharing process; no extras required.
Do you have any favorite #edtech tools you use to make your job easier that weren't mentioned in this article? Share in the comments below!