We're proud to introduce our next class of Alpha Squirrels. They're modern educators. They're EdTech experts. They're classroom innovators. Now, they're Alpha Squirrels.
These EdTech professionals lead presentations and workshops around the globe, advocating for Squirrels and sharing their passion and resources for modern education. We saw many of them at ISTE this year, and you can find this growing community discussing and sharing ideas every month on our Twitter #SquirrelsChat.
The 11 newest members of our Alpha Squirrels program come from five states in the U.S., joining the ranks of more than 125 educators around the world.
Meet the Alpha Squirrels
In addition to teachers, this is a class full of technology integrationists and digital learning specialists. Meet our newest members:
Juli Gilbert – Instructional Technology Specialist, Georgia
Wanda Hanley – Instructional Technology Facilitator, North Carolina
John Kramer – Technology Integration Specialist, Ohio
Aaron Murdock – Digital Learning Specialist, North Carolina
Benton Palmer – Instructional Technology Specialist, Georgia
Valtika Rhodes – Elementary Technology Specialist, Georgia
Adam Rogers – CTE Technology Coordinator, Oklahoma
Ryan Schwartz – Teacher, California
Brittany Ware – Instructional Technology Specialist, Georgia
Marcus Williams – Teacher/Consultant, Georgia
Katy Wyborny – Digital Learning Specialist, North Carolina
See our full list of certified Alpha Squirrels on our website.
Hear it from them
Here's what a few of our newest Alpha Squirrels have to say:

"I want to be able to share and teach other teachers as an Alpha Squirrel. I want to learn from other educators and students."
Adam Rogers
CTE Technology Coordinator

"Squirrels is a leading educational technology company. They really listen to teachers and educators in order to improve their products."

Katy Wyborny
Digital Learning Specialist

"With our ever-changing environment, having a community of like-minded educators gives us a platform to communicate, connect and learn from each other."

Wanda Hanley
Instructional Technology Facilitator

Congratulations, Alpha Squirrels! We have big things on the horizon: Squirrels swag, product news, EdTech conferences and expos, just to name a few. Thanks for cultivating innovation and technology in the classroom and in our schools.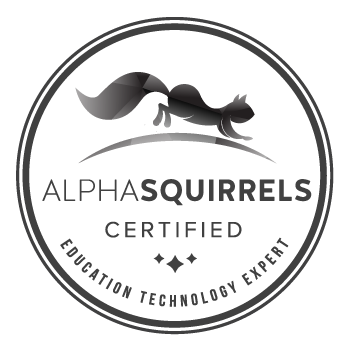 The selection process for our Fall 2018 class of Alpha Squirrels ends Sept. 30. Apply today at alpha.airsquirrels.com.
Are you a teacher or EdTech professional interested in becoming a certified Alpha Squirrel? Contact Emily Carle Hafer at alpha@airsquirrels.com for information about our next class of Alpha Squirrels.