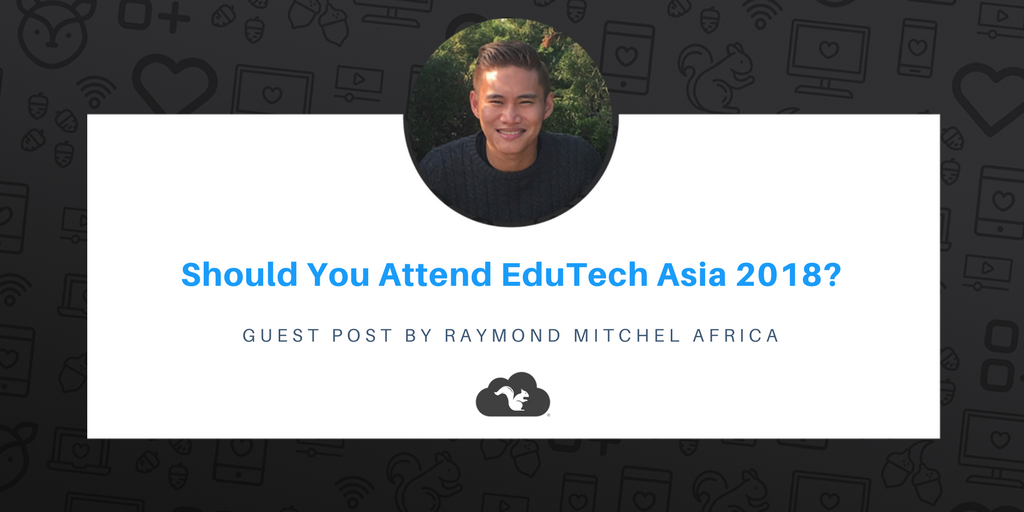 I was inspired. I was motivated.
Everything I want in a conference was everything that EduTech Asia 2017 in Singapore gave me.
The question is: will it inspire you?
I've recounted my experience below for anyone who may be uncertain about attending EduTech Asia 2018 this October. I hope my thoughts give you a general idea of what to expect and help you decide if it's worth the investment.
Looking back at EduTech Asia 2017
EduTech Asia 2017 was the first conference I attended as a member of the Alpha Squirrels program created by Squirrels. The company helped send me there so I could speak to attendees about student voice and digital citizenship, but my time at the conference became so much more than a speaking opportunity.
What's EduTech Asia?
EduTech Asia is a three-day conference and exhibition of innovation and technology in education. It gathers educators, EdTech specialists, education leaders and startup leaders from all around the globe to share and explore how technology impacts learning and creates positive changes in education.
That's standard boilerplate language, but the conference lived up to its billing. I witnessed education enthusiasts sharing and learning from each other to achieve a common goal: bettering education for the world's youth.
More than a speaking opportunity
Like I said, this was more than a speaking opportunity. I achieved my goal of sharing knowledge with others, but I also acquired knowledge that will benefit me on a professional level for years to come.
EduTech Asia 2017 showcased all that is great in education technology innovation. It was amazing to experience the keynote presentations, panel discussions, roundtables, collaborative EduSlams and innovative on-floor activities.
I was treated to an exciting array of technology products and services on display on the exhibition show floor. I found technology that helps me prepare my students for the future globally competitive and technologically equipped workforce.
Designed to fit your goals
The conference is constructed in a way that makes it easy to find topics that align with your needs. Attendees can choose between eight tracks designed to provide an in-depth understanding about how technology shapes the following education sectors:
K-12 leaders
Tertiary leaders
IT leaders
Special needs
Early years
Educational policy
Vocational
Business leaders
Events and exhibitions included sessions for educators by educators, live demos of the latest innovations and technologies, a tech showcase and startup theatre featuring the latest EdTech deployments in schools, institutions and classrooms, and an AR/VR Zone that demonstrated how this emerging technology is used in the classroom.
Robotics
Want to explore robotics? You're in luck!
The EduTech Asia robotic pavilion hosted mini robotics and coding workshops, as well as the 5th Singapore National CoSpace and RoboMaker Challenges 2017.
Additionally, the IMDA Digital Makerspace provided a series of workshops to nurture a new generation of digital natives with a passion to create with technology.
Looking forward to EduTech Asia 2018
EduTech Asia 2018 returns to Singapore Oct. 8-11 where a ton of talented educators and EdTech coaches will be on hand to share stories and expertise with attendees.
Connect with me on Twitter, and be sure to look me up if you decide to go. I look forward to meeting you and swapping education adventures.
Raymond Mitchel Africa is a Middle Years Programme (MYP) science teacher at an international school in Xiamen, China, and a member of the Alpha Squirrel program.