What do you get when your class develops a unique video production and presentation method?
An invitation to the Pennsylvania State Capitol if everything goes well.
Alpha Squirrel Zee Ann Poerio and her students had the opportunity to present how they use Reflector with video production technology in front of legislators in the Capitol.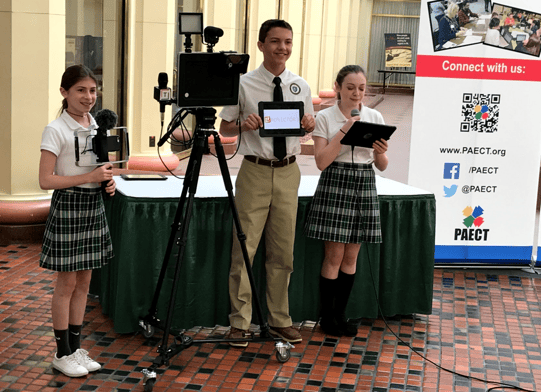 The Pennsylvania Association for Educational Communications and Technology (PAECT) asks students to apply to participate in an annual student technology showcase. Poerio's Student Technology Team at St. Louise de Marillac Catholic School was one of the groups selected to represent their school at the Capitol.
The team's video production and wireless presentation project includes three components. The best part? You can bring it to your class with a minimal amount of equipment.
An iOS application
The St. Louise de Marillac Student Technology Team uses TouchCast for education which enables students to create content using green screen effects, filters, transitions, annotations, lower thirds and video apps that are interactive with social media feeds, polls, websites and more.
Hardware
The students also shared the equipment they use: the Padcaster Ultimate Studio for an iPad and the Padcaster Verse for use with a smartphone.
Software
Poerio uses additional apps to create visuals and wirelessly present iPads to a bigger screen.

Apps like Canva allow students to create design elements for their videos. Poerio uses Reflector on a computer connected to the primary classroom display to screen mirror projects from iPads to the big screen.

"Reflector makes it easier for presenters to share what's on their screen for a demonstration," Poerio said. "It's great for students to share projects they create on their devices with the entire class. Everyone loves to see their work on the big screen at school."

Poerio's students also practice good digital citizenship using what they learned from CommonSense Media, and they use copyright-free images from sites like Creative Commons to create morning announcements and classroom projects.



PAECT Student Showcase
Poerio's team was assigned a space to present how the students use technology in creative ways. Each school presents their project for a livestream from the Capitol.
While at the event, students had the opportunity to interview legislators, educators and other students participating in the showcase.
Poerio said the Student Technology Showcase provides an opportunity to connect with teachers and students who share the same enthusiasm for using technology in the classroom.
"It's amazing to see the innovative ways that students use technology to create content, tell stories, use problem-solving skills, code, design and manufacture." she said. "I encourage anyone to search for similar experiences that allow your students to share their voice, knowledge and use of technology."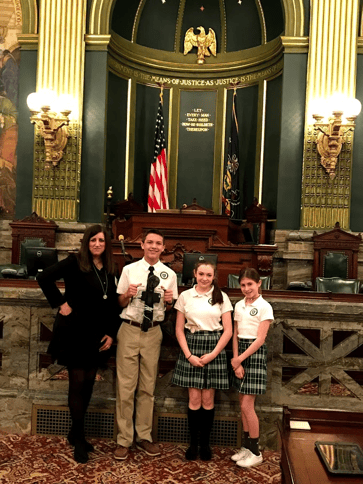 Reflector
Learn more about using Reflector in the classroom.