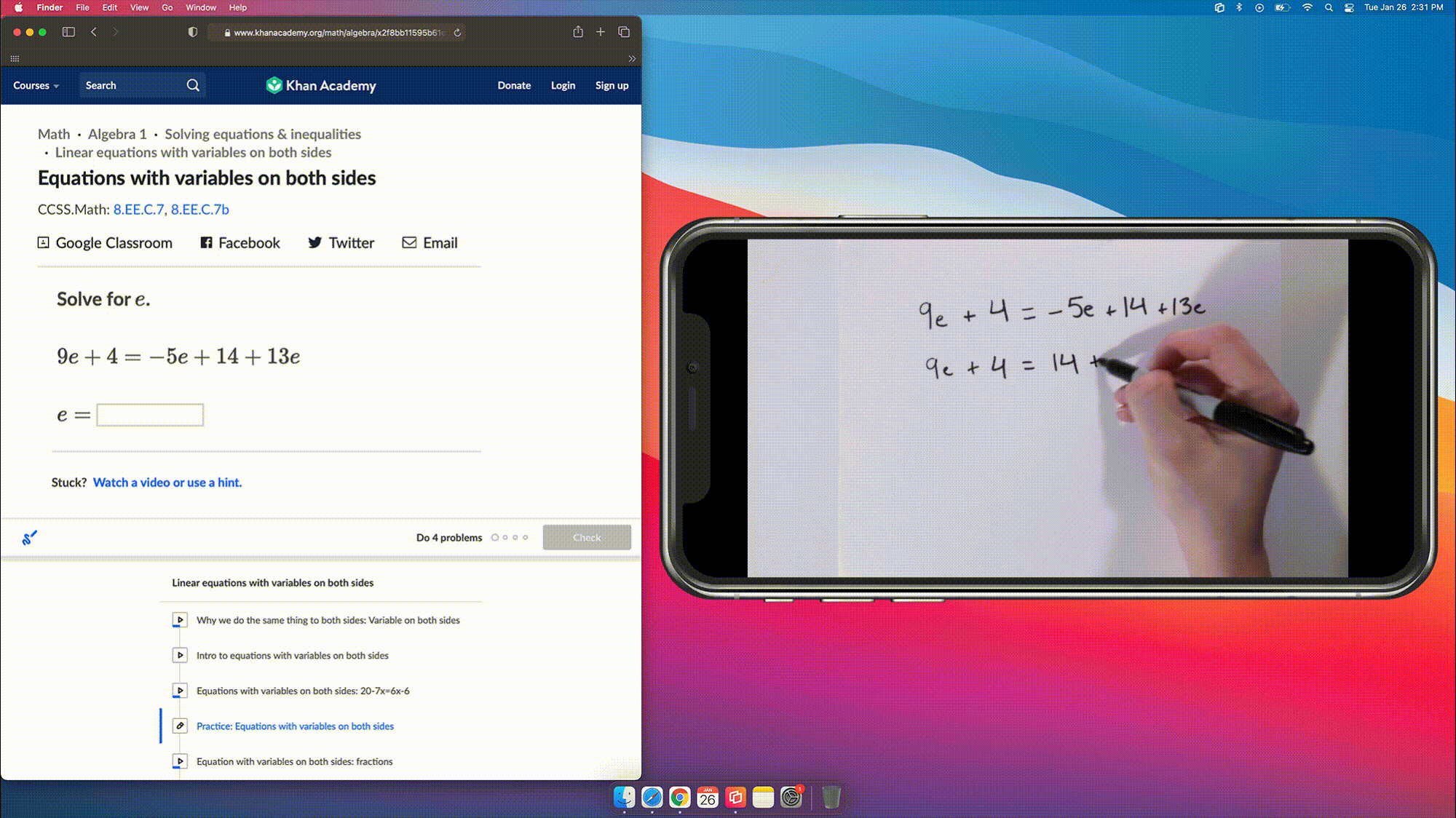 Since the coronavirus pandemic began, educators had to adapt traditional in-class methods for distance learning. Unfortunately, some in-person tools like document cameras and classroom visualizers are gathering dust in empty classrooms.
How can teachers share handwritten formulas, instructions, demonstrations and diagrams during remote classes without a classroom projector or big screen?
The answer lies in your pocket. Or on your desk. Or maybe it's currently charging on your nightstand.
You can replace your classroom document camera/visualizer with just your personal device and one app for your computer. This method will allow you to replicate the feel of in-class instruction as you demonstrate, dissect, explain and share during remote class sessions.
Here's what you need:
A phone or tablet
The desktop app Reflector
Reflector is a desktop app that turns your computer into a wireless receiver. That means you can screen mirror almost any device directly to your computer without any cables or adapters. It will turn your phone or tablet into a document camera. Here's how.
How to turn your phone or tablet into a document camera for distance learning
Note: This setup will work if you want to hold a live class with a videoconferencing tool or record a lesson to share with your students later.
Step 1
Download and install Reflector on your Mac or Windows computer.
Step 2
Make sure your computer and mobile device are connected to the same wifi network.
Step 3
Launch Reflector on your computer.
Step 4
On your mobile device, open the screen mirroring/cast options and begin screen mirroring to Reflector.
Not sure how? Check these out:
Your mobile device will now appear on your computer screen.
Step 5
Open the camera app on your mobile device. Place your device within view of the teaching materials you'd normally use a document camera for, such as a notepad, textbook, diagram or model. Your computer will wirelessly display anything in view of your device camera.
Step 6
The only thing left to do is select the "share your screen" option in the videoconferencing software you use for remote classes, like Zoom or Microsoft Teams. This will share your computer screen, as well as your phone/tablet document camera, with others in the session.
Note: The videoconferencing tool is not needed if you prefer to record your lesson and share it later instead of holding a live remote class. Simply utilize the recording features in Reflector.
Pro Tips:
Need some inspiration to use Reflector as a document camera? Try these:
Use AR and VR apps — see our suggestions here
Examine microscope slides
Demonstrate dissections and other lab experiments
Write out math and science formulas
Teach drawing and painting methods
Educators around the world use Reflector
Replace document cameras, show AR/VR and wirelessly mirror devices to the big screen.
BUY
$17.99