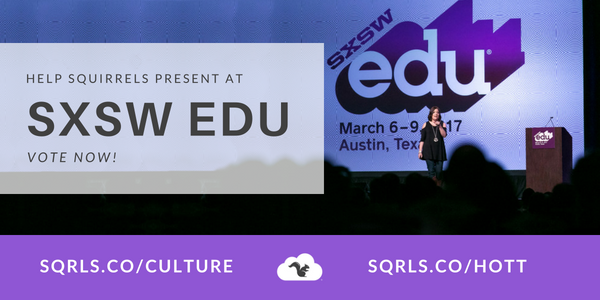 Team Squirrels is going south … South by Southwest, that is. We have the chance to present at SXSW EDU in 2019! Squirrels Director of Professional Development Becky Shiring, Program Director Emily Carle Hafer and Alpha Squirrel Travis Lape have all submitted proposals to present at this groundbreaking conference on the future of education.

But we need your help. Proposals to present are accepted if the public votes them in, now through Aug. 30, 2018. You can help Squirrels present at SXSW EDU by voting for both sessions below.

Vote for Pizza, Projects, People.

Vote for It's Gettin' HOTT in Here.
What's South by Southwest EDU? We'll let them tell you:
The SXSW EDU® Conference & Festival fosters innovation in learning by hosting a community of optimistic, forward-thinking, purpose-driven stakeholders with a shared goal of impacting the future of teaching and learning.
Conference Date: March 4-7, 2019
Location: Austin, Texas
If you're on the bleeding edge of education and know where it's headed in the future, you're at SXSW EDU.
Help Us Get There.
Here's what you can do to get us to SXSW EDU 2019:
Vote!
Vote for both of our Squirrels presentations here: sqrls.co/culture and sqrls.co/hott.
Share!
Tell your friends, social media followers and PLN all about this opportunity to see Team Squirrels at SXSW EDU. We've championed education from the start, and we want the world to know how culture, technology and forward-thinking people can improve education for good.
Here's an example post. Copy and paste this into your own Twitter feed or write your own social media post:
Team @Squirrels is all about the future of EdTech and they've got the chance to present @SXSWEDU. I voted to get them there. Now it's your turn to help! Go here to vote! sqrls.co/culture
So what are we presenting? Here are the details:
Pizza, Projects, People: Creating a Startup Culture in Education
Presented by Becky Shiring, Emily Carle Hafer and Travis Lape
Schools don't have to be stuck in the past. Learn how startup culture can boost creativity, enhance communication and create collaborative environments in your classroom.
It's Gettin' HOTT in Here: Building Higher Order Thinking Skills with Tech
Presented by Becky Shiring
Preparing students for the future means they must be challenged with higher-order thinking tasks. Learn how to design cognitively challenging lessons that utilize technology to promote deep, meaningful learning in the classroom.
Session proposals are selected to officially present if they receive enough votes from the public (that's you) and are approved by the SXSW EDU Advisory Board and Staff. So get out there and vote!
TL;DR
View our session proposals here and here, create an account and vote to see us at SXSW EDU during public voting through August 30, 2018.
Here's to advancing the future of education with technology. Hope to see you there – and thank you!