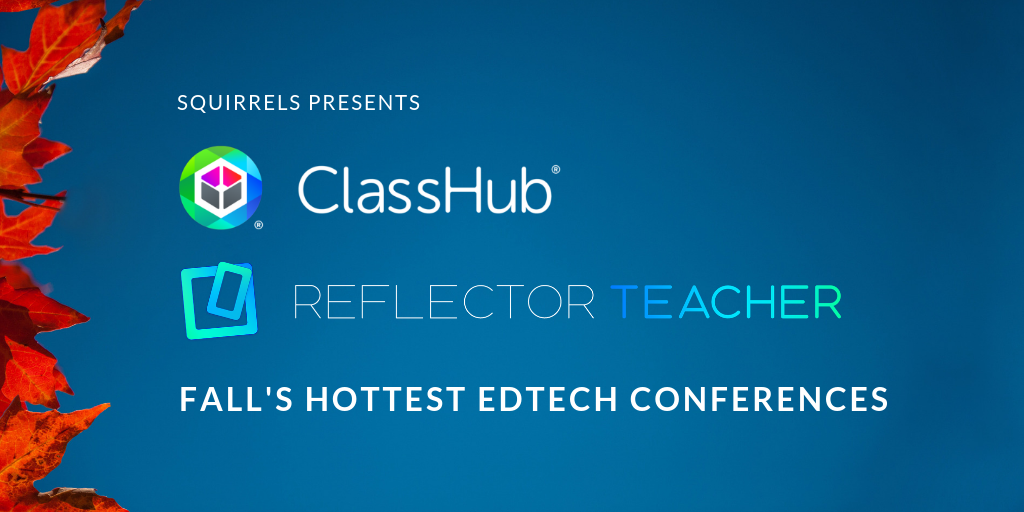 The Squirrels team is hitting the road the next couple months for our fall conference season. We're excited to meet with educators and help them maximize every moment they spend with digital tools.
Oct. 24-26, 2018
Greenville, South Carolina
Booth #639
We love the South Carolina EdTech conference because there's something for every educator. With more than 100 sessions and over 160 exhibitors, it's an innovative educator's paradise.
Find us in booth #639 to see how ClassHub and Reflector Teacher enhance the modern classroom by saving time, sharing screens and managing devices.
Nov. 7-9, 2018
Atlanta, Georgia
The Georgia Educational Technology Conference brings all sorts of EdTech methodologies, best practices and tools under one roof. 2018's theme is Level Up Your Learning – where the best ways to engage students with gamified curricula take center stage.
How does Squirrels engage students? With mobile technology and focused screens that put teachers and students first. Find the Squirrels team to see how you can level up your students' learning with ClassHub and Reflector Teacher.
Don't miss these essential Alpha Squirrels presenting at GaETC:
Jennifer Hall
"Get Going with Google Drawings!" Wednesday, Nov. 7, at 3:15 p.m. in Australian 3-4
"HyperDocs, Say What?" Thursday, Nov. 8, at 4:30 p.m. in Kenyan 1-2
David Lockhart
"Join the Hype Club! How to Hype it Up with Hyperdocs" Wednesday, Nov. 7, at 1:30 p.m. in Salon 7
"Become Future Ready! Start Coding Today!" Thursday, Nov. 8, at 12:15 p.m. in Spanish 3-4
"Is it Skynet? Using AI in the Classroom" Friday, Nov. 9, at 9:45 a.m. in Salon 7
Nov. 13-16, 2018
Sacramento, California
Booth #311
Screen Mirroring Showdown: Nov. 14, 8-9:45 a.m., Exhibit Hall A-B #308
You thought two conferences were enough for Squirrels this fall? Nope. We're heading west to CEPTA 2018 – exhibiting ways educators and businesses can present media and information wirelessly. Watch us in the "Screen Mirroring Showdown" – live demos of how simple and easy it is to share screens with Ditto and AirParrot. Then, learn how educators monitor student devices and collaborate live, in real time.
If you're attending any of these great conferences, come meet our team and say hello! We're here to help maximize the way you use technology, simply and headache-free.