Let's play a quick round of "JEOPARDY!" where you are the contestant and we are the gracefully aged Alex Trebek.
You: "I'll take Nobel Prize Winning Authors for $1000, Alex."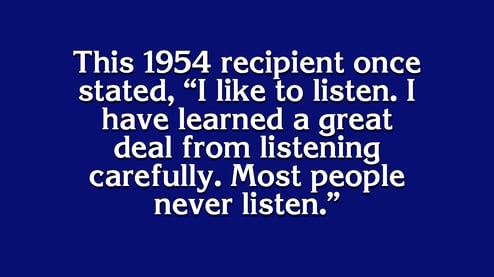 Us: "Answer: This 1954 recipient once stated, "I like to listen. I have learned a great deal from listening carefully. Most people never listen."
You: [Clicks clicker] "Who is Ernest Hemingway?"
Great job. Now you're 1000 fake dollars richer, and we just laid the groundwork for the point of this post.
Hemingway was a brilliant author who knew the value of listening. When people ask us why we created ClassHub, the answer is simple. We listened to you, our audience. Educators and district administrators give us feedback at education conferences, on social media and through our customer support team. We listen, read, observe and analyze. Then we act.
Our Reflector software catapulted us into education and introduced Squirrels to educators around the world. Teachers loved that it allows them to wirelessly display and record classroom devices. It's simple and cost-effective.
Through the years, many educators requested additional features that were outside the scope of Reflector:
The ability to wirelessly push content to student devices and manage apps
The ability to view what was happening on every student device at once
The ability to send a mirror image of the teacher's screen to every student device
The ability to lock student devices, or lock the devices into specific apps
While it wasn't possible to add those features to Reflector without changing its identity, we heard you. We listened. You asked for ClassHub, and we made it for you. ClassHub ushers in a new era of mobile technology usage in the classroom.

We're ready to show you what student device management and monitoring looks like in your school or district.
Visit our website to learn more or
to talk about ClassHub.