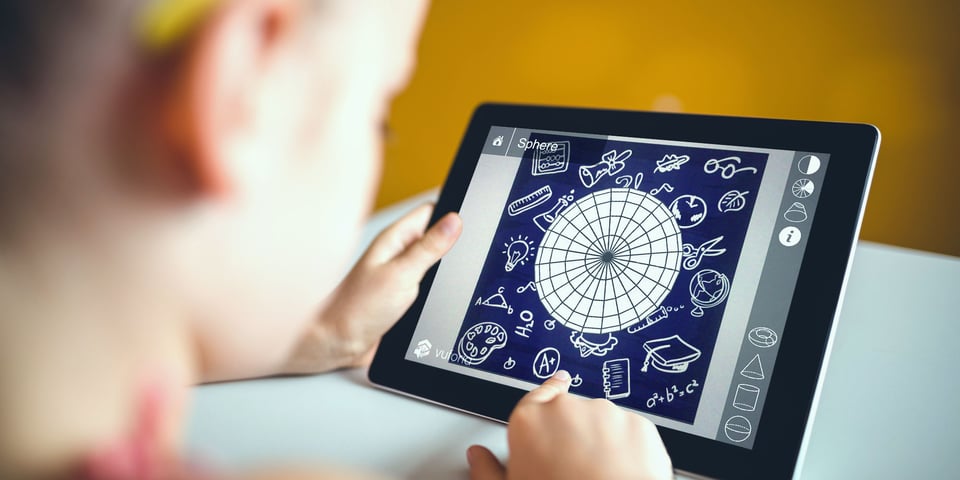 Welcome to part six  of a bite-sized series about tools and techniques educators use to teach augmented reality (AR) and virtual reality (VR) in the classroom. Read part five here.
Explore geometry in augmented reality
An interactive way to learn shapes and fractions is with CleverBooks Geometry. This app allows students to explore 2D and 3D shapes from all angles. Understand the properties of geometric shapes, unfold 3D objects and use shapes to visualize fractions.
How to get started with CleverBooks Geometry
CleverBooks Geometry uses your phone or tablet to transform shapes into 3D objects. Students can interact with the shapes to learn about edges, vertices and more. You will need a marker sheet, which is a physical paper printout that tells your phone or tablet where to display augmented reality objects. You can download and print marker sheets here.
Step 1
Open the CleverBooks Geometry app and tap "Shapes."
Step 2
Place your printed marker sheet on a flat surface.
Step 3
Focus your device's camera on the marker sheet. The shape will have a yellow outline.
Step 4
Use the tools on the screen to explore the shape.
Pro Tips:
Use the app to take an interactive knowledge test or play a geometry game.
CleverBooks also offers apps for geology and space.
If you want more shapes or marker sheets, CleverBooks sells workbooks.
Use Reflector Teacher to view augmented reality apps on the big scree
n
You'll likely want a way to share your AR experiences on a larger screen in the classroom. If you need an easy way to share the AR interaction happening on your mobile  device screen  (like in the video above) to the whole class,  read part one in this series  to learn how to  screen mirror to larger displays with an app like Reflector Teacher. 
Not in the classroom?
Reflector Teacher also comes in handy if you're trying to share your device screen in a virtual class session.
This blog series is created by Alpha Squirrel Christine Danhoff. An Ohio-based educator and member of the Alpha Squirrels program, Christine is an ambassador for Squirrels and is an expert on developing creative ways to educate students and other educators with technology.