This is the second post in an ongoing Meet the Squirrels series. Read more in this series.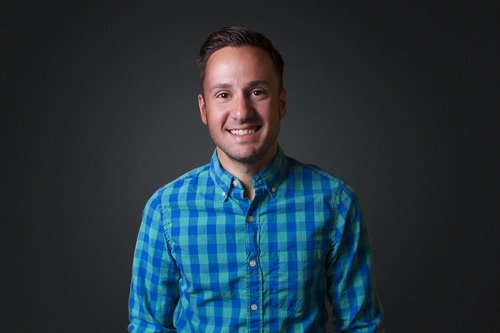 Drew is the COO and co-founder of Squirrels. A native of Green, Ohio, he manages the day-to-day operations at Squirrels by greasing the wheels between departments and making sure customers are getting the greatest experience possible from all aspects of the company. He facilitates communication and provides guidance to assure tasks are done to set standards of speed and quality. Andrew looks after the everyday evolution of the products to ensure they work and look great.
In the past five years at Squirrels, Drew has been able to experience incredible things. "Numerous Apple WWDC keynotes, dominating meetings with distinguished businessmen two and three times my age, snowmobiling in Montana, jet skiing on Lake Tahoe, blazing trail for new trends and helping revolutionize education and business with technology," he said. "The coolest thing we've done collectively at Squirrels is assemble a team of 22 people that are great at what they do and so passionate about only putting out the best of everything."
Drew has come to appreciate the diversity in his everyday routine. "One minute we're crunching to hit a deadline, the next we're in the midst of a foam rocket war, then we're hearing great feedback about our products changing classrooms and then we're moving quickly react to an issue at hand and resolve it promptly. Every day I wake up I'm excited to come to work and see what the day holds. Not many people can say that."
Learn more about Drew!
Favorite things to do in your free time: I love to cook. I've always had a basic knack for cooking and have spent my post-college-pizza-diet-years learning new skills and techniques. I also try to focus on making healthy versions of every day dishes. I like to supplement healthy eating with running and working out. My brain is much sharper when my body is in shape and I generally have a better outlook on life. I also love traveling and experiencing different cultures, as well as listening to and playing music. In my 27 short years, I've learned to play the saxophone, electric guitar, classical guitar and bass guitar. I went through a phase where I was really into making digital music using things like Maschine and MIDI keyboards but eventually settled back into playing electric guitar.
Favorite food: Authentic Japanese Ramen (although the packaged kind is mighty delicious)
TV show: Top Gear (UK version)
Movie: A tie between Ocean's 11 and Goodfellas
Band/artist: Green Day
Your idol and why: My parents are definitely two people I really look up to. Everything I have or have achieved today is because they provided the base to build on. They taught me about hard work, seeing things through and loyalty. Even though it's become really cliché to say, Steve Jobs was someone I looked up to even at a young age. More recently, I've really enjoyed watching Elon Musk's passion to unrelentingly question the old way of doing things and push our technologies and culture forward. It's really fascinating to watch the closest we'll probably come to a real-life version of Tony Stark.
Your motto: We can always be better. I'm a firm believer that our best is only a stepping-stone to the better thing we can become. I'm always pushing myself and others to be better and improve on everything we do in life.
If you could be any animal, what would you be? A velociraptor. Somehow Mother Nature messed up and made us the dominant species instead of them.
When you were a little kid, what did you want to be when you grew up? I wanted to be an architect when I was really young and then anything involving computers after that. There is an old home movie of me sitting on a computer desk playing an Atari when I was about one and a half years old. I frequently asked "why?" whenever anyone tried to tell me something had to be a certain way. That pretty much set my career choice on an inalterable crash-course for where I am today.
If you could have one super power, what would it be? The power to open vacuum-formed packaging quickly without injury.