This is the fourth post in an ongoing Meet the Squirrels series. Read more in this series.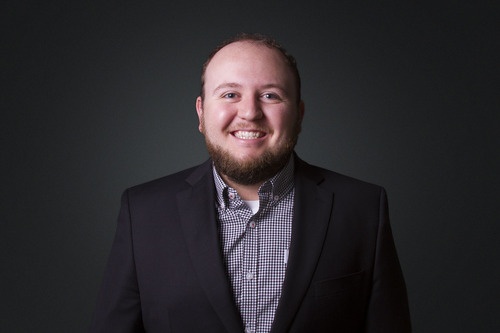 Sid came to Squirrels from Mineral City, Ohio. As one of the company's partners, Sid wears many hats. A lot of the work he does stems from his degree in public relations: social media, syndicating press releases, business development, people management, sales, attending conferences and much more.
The coolest thing Sid has done at Squirrels was start it! "When Squirrels was first coming about, there were late, late, late nights at the office," he said. "I was still in college, so I would go out on a Friday night and come back after the bars closed to answer emails and work on things. Starting something from nothing has definitely been a pretty cool experience."
Being a part of the beginning has given Sid the chance to fully appreciate what Squirrels is today. "Squirrels has become much more than a job. The people here are like family. Coming to work isn't working. Sure, we get things done, but we're having fun while we do it, and I enjoy it. I don't dread coming in every morning because I get to see and be with people who are passionate and care about what we're doing."
Learn more about Sid!
Favorite things to do in your free time: I really enjoy hanging out with friends. Often times it's the same people I work with. It really doesn't matter what we do—barbecuing, bowling, going out on the town, going to the beach, etc.
Favorite food: I love grilled burgers and hot dogs, and I wear my Taylor Swift apron while I grill. Can't get much more American than that, right?
TV show: Until last year, my favorite series was Californication on Showtime…. and then I watched Game of Thrones. Now I own Game of Thrones cups, blankets, paintings, maps, board games, card games and Blu-rays. I think you get it.
Band/artist: I listen to all kinds of music, so I can't say I like Eric Church more than Taking Back Sunday because it's comparing Apples and Oranges. My favorite music changes daily depending on mood, situation, location, etc. You'll find me listening to the top 40, rap, 60s/70s/80s, alternative, house… the list goes on. I should say that I have every Taking Back Sunday and Taylor Swift album autographed and hanging on my wall.
Movie: Favorite movies are the same as music. My Blu-ray collection is 300 strong and still growing!
Your motto: A book I read in high school had a main character that lived by the motto "What's life without risks?" I like to go by that, but a bit more toned down.
If you could be any animal, what would you be? A turtle, but not just any turtle. Crush from Finding Nemo. Why? He's chill and wise. He seems like he knows everything about the world (ocean?) but still doesn't have a care. Also, who doesn't like sea turtles?!
When you were a little kid, what did you want to be when you grew up? I wanted to be a train engineer. Trains are awesome! When I was younger, I always made my mom take me to train museums and buy me model train sets. I had a really cool model set with tunnels, mountains, roads and all kinds of other stuff. This past January I drug my girlfriend to the California State Railroad Museum in Sacramento, and it was awesome. I actually think I would still do it—even if trains are a thing of the past.
If you could have one super power, what would it be? Flying! I hate flying commercially. It's slow, inefficient, crowded, unhealthy, whatever. It's a pain. I can see it now: no sitting in traffic, going through TSA check points, sitting next to toddlers or sweaty sick people. It would be great, and super efficient! No more red-eye flights home from Vegas!