This is the sixth post in an ongoing Meet the Squirrels series. Read more in this series.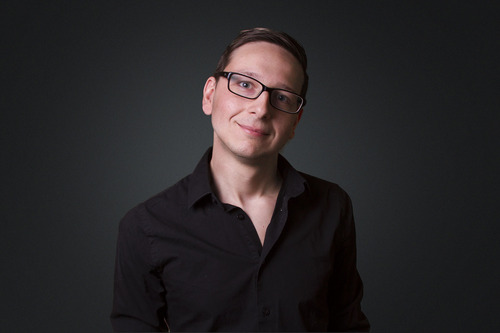 Matt Becker is from Bolivar, Ohio. Along with being a partner, he is the company's project manager. Matt takes great pride in the software development process from start to finish; he creates an efficient work environment that allows the team to work together and succeed, turns product visions and new features into a reality by monitoring product design goals and staying true to the initial vision and then ensures that Squirrels' offerings meet customer needs.
When asked about the coolest thing he's ever done at Squirrels, Matt said, "It's really hard to say one thing was cooler than something else because we've been able to positively affect so many people by doing what we love to do. I've been able to contribute simply by being passionate and by trying to be a great leader. Being given an opportunity to do this is without a doubt the coolest thing that has ever happened to me."
Matt's favorite part of working at Squirrels is not feeling like he's at work. "I never wake up and think to myself, 'I'm not in the mood to work today.' I'm surrounded by an awesome team that is capable of doing awesome things."
Learn more about Matt Becker!
Favorite things to do in your free time: Drives to nowhere, learning new and crazy things (I'm currently learning how to assemble my own guitar effects pedals), basically trying to not have free time.
Favorite food: Pita chips and vegetables with hummus
Favorite TV Show: Game of Thrones (unless NBA Basketball counts)
Favorite Movie: I count Star Wars Episodes IV - VI as one movie, because that's how I watch them.
Favorite Band/Artist: I don't have a favorite band/artist, but some of my favorite music genres are Trip-Hop, Downtempo and Post-Rock.
Your idol and why: Over the years, I've had a number of idols and people whom I've looked up to. But Steve Jobs is always on that list and usually very near the top. The way that he was able to productize something that was considered to be too nerdy or too techy, is something that I continue to try to understand.
Your motto: I've always told myself and others, "Do awesome things." I'll probably be using this more after seeing James Whittaker (@docjamesw) speak a couple times at a conference that I recently attended.
If you could be any animal, what would you be? Some sort of exotic bird, like a Macaw. To live in a jungle, fly around in the canopies, be generally beautiful and majestic… that sounds like a pretty good life.
When you were a little kid, what did you want to be when you grew up? Up until I was about 16, I was convinced I was going to be a touring musician in a rock band. THAT… did not happen.
If you could have one super power, what would it be? It's not a "super power" per se, but if I could be adept in using the power of The Force, I'd be very satisfied.