This is the eleventh post in an ongoing Meet the Squirrels series. Read more in this series.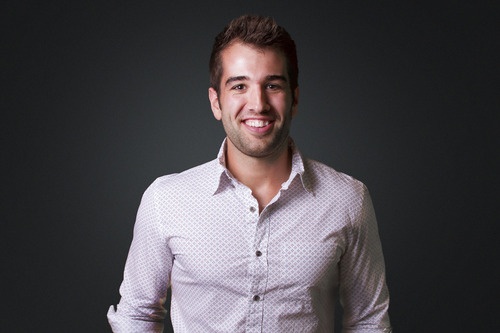 A Green, Ohio native, Matt manages and develops the websites and web-based applications at Squirrels. He works very closely with the creative department to implement designs and the marketing team to assist in developing content that drives traffic to the websites. Along with being the web developer, he also takes prides in his title of "under-appreciated t-shirt model."
When asked about his coolest experience at Squirrels, he said, "I've had a lot of awesome experiences since joining the team. It's hard to pick just one, but I would say that our company trip to Lake Tahoe ranks near the top of the list. Not only was it a great trip to a cool place, it was also a great relationship and team building opportunity. It really brought everyone together. I'm excited for the trip this year so that we can build on that and bring the newest employees into that experience."
Matt's favorite part about working at Squirrels is the people. "I work with some of the most passionate, talented and creative people in the industry. On top of that, I consider everyone here a genuine friend. We all get along and work so well with one another. We really are a family here and I'm genuinely excited to come to work everyday. Also, we build LEGOs!"
Learn more about Matt!
Favorite things to do in your free time: I'm a pretty simple guy. I enjoy spending time with my wife, family and friends. I also love to lift heavy things whilst wearing the smallest amount of sleeve allowed on a shirt.
Food: Protein
TV Show: Game of Thrones
Movie: Star Wars (all of them)
Band/Artist: Jimmy Eat World
Your idol and why: Sidney Keith. Because when I grow up I hope I can achieve the level of coolness he effortlessly displays on a daily basis.
Your motto: Eat all the protein. Lift all the things.
If you could be any animal, what would you be? A Sloth… obviously.
When you were a little kid, what did you want to be when you grew up? Again, I'm a simple guy that had simple dreams. I just wanted to be tall. Technically, I wanted to be taller than my dad. I'll never give up on that dream despite the fact that people say it's impossible at this point.
If you could have one super power, what would it be? Definitely the ability to move things with my mind. Aside from the fact that it would be cool, there are just endless possibilities to mess with people with that ability.