This is the nineteenth post in an ongoing Meet the Squirrels series. Read more in this series.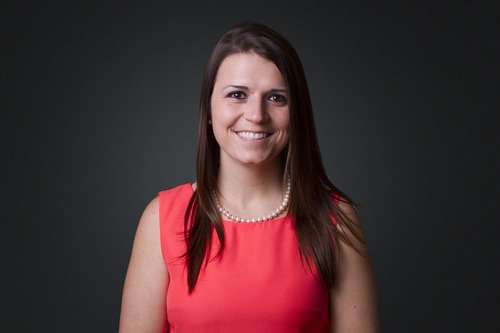 Jess was born and raised in Green, Ohio but came to Squirrels from her previous job in Atlanta. Jess is the Squirrels sales coordinator; she handles external sales, trade shows, sales and website reporting, sponsorships and helps with marketing. Her goals are to put the company in the right places to gain exposure and strengthen the brand. She also gets to work first-hand with the creative team to help convey our message.
The coolest thing that Jess has done at Squirrels was attend last year's company retreat. "Until that point, I didn't fully understand the culture of the company and the nature of being at a 'start up,'" she said. "The retreat helped me get to know the other team members that I otherwise wouldn't have gotten to know; it was awesome getting to know how people view themselves and hearing how they want to grow. It's also cool that I get sent all over the country to represent the company at various trade shows and events."
As for Jess's favorite part of working at Squirrels, she loves having the ability to get involved with multiple levels of the company. "It's nice that when a customer asks for a feature or is having troubles, I can work directly with our project manager and development team to make sure the message gets delivered. We have a great team and everyone gets along well. Everyone is different in their own way and we're like a bunch of siblings all working in the same place."
Learn more about Jess!
Favorite things to do in your free time: When I'm not at work I find myself keeping very busy with soccer, working out, running, traveling, volunteering and visiting friends and family. I love just about anything active and outdoors. I also enjoy cooking and baking; Pinterest has helped me improve my healthy dessert menu. I just bought a house so that will probably be my biggest hobby for a while. Over the years, a big part of my life has been giving back and community service. For the last year I've been apart of Big Brothers Big Sisters. I love hanging out with my little sister, Passion, and teaching her all about life, new hobbies and acting as a role model for her developing mind.
Favorite food: Chocolate and pizza make everything better. I eat a little piece of chocolate almost everyday. Dove chocolate squares are the best because they give a little inspiration on the inside of the wrapper.
TV show: I don't have a favorite TV show, primarily because I can't get into a show enough to regularly watch it. I don't have time for that. However, I've recently started watching "Silicon Valley." It has some potential! Big Bang Theory is good too!
Movie: I can't say I have a favorite movie. I like all types of movies, except scary! I used to love scary movies until I started living alone. Then they became too real.
Band/artist: I love all genres of music. It just depends on what I'm doing and my mood.
Your idol and why: My Parents. Both of my parents had very tough lives growing up. Being hard workers, they were able to provide for my siblings and I. They managed to have us all in several, year round sports while working. My father passed of cancer, but even in his last days he was still fighting and had hope that he would make it through. My mother recently beat kidney cancer. Not too long after her surgery she was back to working long hours and you would never know she had cancer. I admire the fight of both of my parents.
Your motto: I have two mottos: "Live with no regrets" and "Be who you are, and say what you feel because those who mind don't matter, and those who matter don't mind."
If you could be any animal, what would you be? I would want to be a bird so I could fly all over the world. I wouldn't want to be a bird that people hunt though. A robin, blue jay or a bald eagle would be preferable.
When you were a little kid, what did you want to be when you grew up? Like most children, I wanted to be a professional soccer player. That would have been a fun job. At the age of seven, I became a realist and wanted to be an accountant. Why did I choose accounting? My older cousins were accountants and they were cool, so why not! Then in high school, at age 16, I decided I wanted to be an Astronaut and go to space…. until I realized how hard it is on your body and how it destroys your muscles. Since I couldn't go to space, I decided I should design things that go into space. At that point I decided I wanted to be an aeronautical engineer, and that's just what I did!
If you could have one super power, what would it be? I wish I could teleport myself. I've spent many hours in airports, airplanes, sitting in traffic and just traveling in general. It would be nice if I could just show up where ever I wanted to be whenever I wanted to be there.