This is the twenty-first post in an ongoing Meet the Squirrels series. Read more in this series.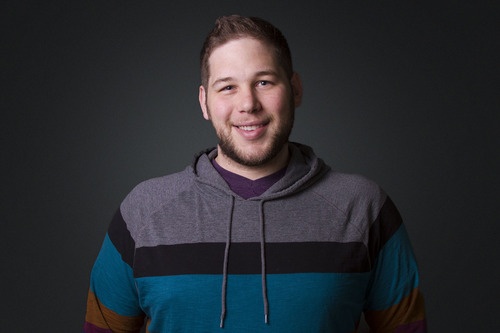 Jon came to Squirrels from Bolivar, Ohio and works in the creative department. As a graphic designer, Jon handles web advertisements, illustrations, animations, print materials, trade show materials and booth designs. He also is a part of the Squirrels marketing team, so he helps out with some copy writing and occasionally writes, produces and directs company videos.
One of Jon's many roles leading up to the Slingshot launch was his coolest experience at Squirrels. "I did the Slingshot animated video that's up on YouTube," he said. "It was weeks of hard work, but it was fun and rewarding."
"In my own words, Squirrels is working to upgrade schools and businesses with an information age model of communication," he said in regards to his favorite part of working at Squirrels. "It's relatively cutting edge, and we make great products for the benefit of lots of different people. As a graphic designer, it's amazing to work for a company I can believe in."
Learn more about Jon B.!
Favorite things to do in your free time: I do Jujitsu twice a week. I like going on shoeless walks and hikes. I like camping. I like dancing. I recently bought a blowgun and about twenty stuffed animals to hunt with it. I love karaoke; "Ch-Check It Out" by the Beastie Boys is my favorite song to sing.
Favorite food: I would eat my body weight in dim sum.
TV show: I pretty much only watch Game of Thrones, The Walking Dead and Parks & Recreation.
Movie: I can't really pick a favorite movie, but I recently watched Perfume and it was legit.
Band/artist: My favorite band is a three-way tie between Guster, Brand New and The Gorillaz.
Your idol and why: I'm not really into idols. Envying someone else's life keeps you from appreciating your own. I'd rather embrace my Jon-ness.
Your motto: "Omnia mea mecum porto" … Everything I possess, I carry with me.
If you could be any animal, what would you be? Probably a party animal, like a skateboarding bear, a monkey that can play the electric guitar or a parrot that can do a passable Christopher Walken impersonation.
When you were a little kid, what did you want to be when you grew up? When I graduated high school, my kindergarten teacher gave me an envelope. Inside was a picture I drew: a black and white space shuttle with blaring sirens. It was bombarding a pack of fleeing people with missiles and lasers. A caption below read, "When I grow up I want to be a police officer."
If you could have one super power, what would it be? Shape shifting. I'd shift to a clean-shaven version of myself every morning and save $100's a year on razor blades and hair care accessories.