This is the twentieth post in an ongoing Meet the Squirrels series. Read more in this series.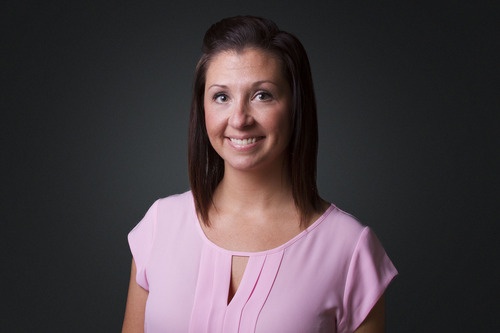 Meghan was born in Concord, California but came to Squirrels from Canton, Ohio. Aside from being the best Slingshot rocket sniper in the office, she is the company's finance manager. Meghan handles payroll, accounts payable/receivable, bookkeeping, internal sales and some external sales and marketing.
Becoming accustomed to the company atmosphere is the coolest thing Meghan has done at Squirrels. "This is the first job I've had where not only the management but the team as a whole really cares about the work they're doing and the path the company is headed down," she said. "Our company retreats to Lake Tahoe and the British Virgin Islands were incredible team building trips that solidified the company's values, goals and direction. With that being said, working here on a daily basis is pretty cool too!"
To Meghan, the best part about working at Squirrels is the staff. "Everyone here is amazing and very talented. We all get along very well and have built great friendships. It feels like a home away from home!"
Learn more about Meghan!
Favorite things to do in your free time: Spend time with my family and friends, photography, dancing and golf.
Favorite food: I LOVE food! You won't see me turn down much (especially chips and salsa)!
TV show: Grey's Anatomy, So You Think You Can Dance and The Vampire Diaries (complete guilty pleasure). Oh and Ellen… I love Ellen!
Movie: Charlie and the Chocolate Factory, Dirty Dancing, Legends of the Fall and Shawshank Redemption to name a few!
Band/artist: My dad is the ultimate music man. He taught me at an early age about all the classics, rock and roll and doo-wop. Also, being in dance for 25 years has given me the opportunity to learn about classical, Broadway, jazz and pop music….I love it all!
Your idol and why: My parents. You know that mom that everyone wished they had? That's my mom. She loves unconditionally and has taught me more than words can say. There is no one in this world that will ever compare to her. My dad is the strongest, hardest working man with a heart as big as the moon. He has always done all that he can to make sure his family is happy and provided for. They have raised their own children and now help my husband and I raise our two kids; it really does take an army to raise a child! Without family, I believe we are empty.
Your motto: You can't make others around you happy if you aren't happy yourself!
If you could be any animal, what would you be? A chimpanzee - they are so much like us. It's fascinating!
When you were a little kid, what did you want to be when you grew up? A mom. I wanted 4 kids.
If you could have one super power, what would it be? Healing Powers, both physically and emotionally. I would want them for myself but also to have the ability to heal others.