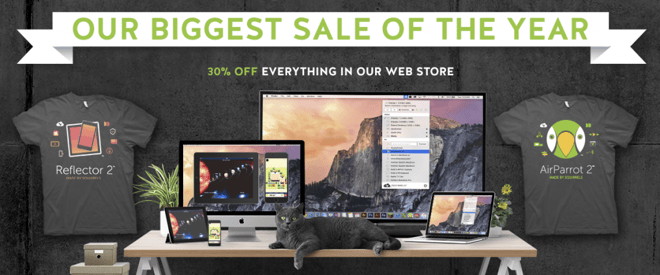 Our biggest sale of the year has arrived. Correction. Our biggest sale ever has arrived. We're offering 30% off Reflector 2, AirParrot 2 and everything else in our online store today.
If you've been waiting to upgrade your old Reflector 1 or AirParrot 1 license, now is the time to do it. If you just happened to stumble upon our industry-leading screen-mirroring solutions today, your timing is impeccable.
New features, enhanced quality and a lot of tender love and care from our development team make Reflector 2 and AirParrot 2 the most complete screen-mirroring solutions we've ever created. We are beyond proud of both products, and we couldn't be more excited for you to bring them to your classroom, boardroom, game room or entertainment room this holiday season.
All merchandise in our online store is 30% off today as well. Check out our collection of Squirrels t-shirts, AirParrot t-shirts and Reflector t-shirts.
Be sure to take advantage of our Cyber Monday sale while you can! As always, let us know if you have any questions.