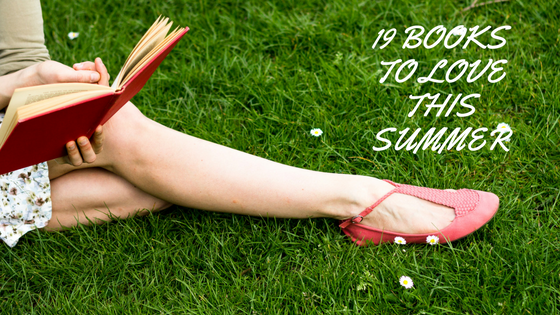 The school year is over, vacations are on the horizon and oh yeah, ISTE is this month! After the seemingly endless hours of grading papers and preparing lesson plans, summer is the perfect time for educators to relish in the successes of the school year and rejuvenate for the next. So we ask - what better way to do this than with a good book in hand?
To help you find the perfect summer book, members of the Squirrels team share their recommendations below.
Becky Shiring
Director of Professional Development and Continued Learning
"The Curious Case of Sidd Finch" by George Plimpton
A hilarious book that stemmed from an April Fools' Day joke article in Sports Illustrated about a baseball player that can throw 168 mph. What more do you need?
"Data and Goliath: The Hidden Battles to Collect Your Data and Control Your World" by Bruce Schneier
This book is a totally shocking look into how governments and corporations collect data on us every day. Most people are apathetic about privacy issues, but this book will change your mind.
"Cloud Atlas" by David Mitchell
This is an epic book that beautifully weaves through time. Mitchell has an amazing ability to write with a different voice through each period of time.
"The Unthinkable: Who Survives When Disaster Strikes – and Why" by Amanda Ripley
This book totally changed the way I look at the situations I'm in. It basically says that people survive because they practice what to do in emergencies. Also, always look for the exit when you enter a new room!
Jessica Chevalier
Director of Business Intelligence
"Eat, Pray, Love: One Woman's Search for Everything Across Italy, India and Indonesia" by Elizabeth Gilbert
It's a great reminder that we learn a lot about ourselves when we step out of our comfort zones.
Joseph McCulty
Business Analyst
"Sula" by Toni Morrison
"Sula" is close to "Sulu" and Toni Morrison kind of looks like Uhura. The book itself is decent, but sadly not about Star Trek.
Connal Kelly
Account Executive
"The Good Girl" by Mary Kubica
Thriller that keeps you turning the page!
Alissa McGill
Developer Relations Engineer
"Mistress of Dragons" by Margaret Weis
Unique and epic fantasy. Written by one of the authors of the Dragonlance books. It is like Eragon but with more grit and adult themes.
Aaron Rinier
Director of Customer Support
"Killing Kennedy: The End of Camelot" by Bill O'Reilly and Martin Dugard
I really enjoyed reading about Kennedy's time in WW2 in the Navy, and how it influenced the rest of his life. There are a lot of interesting facts about him that I was never taught in school. Very easy to read also.
Stephen Gerstacker
Senior Developer
"Stranger in a Strange Land" by Robert A. Heinlein
This book is an interesting reflection on the current political and cultural climate that we're experiencing today.
Ashley Swinehart
Jr. Front End Web Developer
"Filters Against Folly: How To Survive Despite Economists, Ecologists, and the Merely Eloquent" by Garret Hardin
This book tells you how to think and make decisions through these 'filters' in judgment which must be considered. It's a timeless reference for problem solving.
Mike Bruin
Technical Support Rep
"The Reason I Jump: The Inner Voice of a Thirteen-Year-Old Boy with Autism" by Naoki Higashida
I like this book because it is a quick but vivid and fascinating look into the mind of a special needs child.
Keirsten Heckel
Communications Strategist
"The Girl on the Train" by Paula Hawkins
I love any book with elements of suspense and emotion. The Girl on the Train leaves you questioning whether to empathize with the main character or feel sorry for her, while uncovering a mystery that leaves you on the edge of your seat.
Llaran Smiles
QA Analyst
"The Last of the Renshai" by Mickey Zucker Reichert
This is the first book of an often overlooked fantasy trilogy. It's very well written with a compelling story.
Emily Carle Hafer
Alpha Squirrels Program Manager
"Along Came a Leader: A Guide to Personal and Professional Leadership" by Kelly Croy
Written by one of our Alpha Squirrels, Kelly Croy's "Along Came a Leader" transcends educational leadership. It's a must read for educators, but the lessons, humor, and insight can be applied in any situation.
"#FormativeTech: Meaningful, Sustainable, and Scalable Formative Assessment With Technology" by Monica Burns
Written by one of our Alpha Squirrels, #FormativeTech tackles two major topics in education: assessment and technology. It can be daunting to connect the two, but Monica does so in a way that is easy to understand and practical. Plenty of "try on Monday" tips for all educators!
"A Wrinkle in Time" by Madeleine L'Engle
"A Wrinkle in Time" is a classic YA novel for all ages that dives into the world of science and fantasy. Bonus: it will be released as a movie in 2018, so you can get a jump start on the story now!
"Big Little Lies" by Liane Moriarty
If you heard the hype around the HBO mini-series of the same name, you need to take the time to read this book. Moriarty knows how to add twists and turns that will keep the reader engaged until the very end.
Jon Bishop
Creative Director of Marketing
"The Dark Tower I: The Gunslinger" by Stephen King
The movie is coming out this summer (ft. Idris Elba and Matthew McConaughey), but it seems to just borrow from King's self-described magnum opus series "The Dark Tower." If you like westerns, horror and sci-fi, it's a great read. Even more, the series connects pillars of King's canon–like IT, The Stand, Salem's Lot and Hearts in Atlantis.
If you have any recommendations for us, feel free to leave them in the comments below.
We want to wish all educators a happy, relaxing and safe summer! Happy reading!