Whether you choose to do your reading poolside or in a frosty air-conditioned room, lazy summer days are the perfect time for catching up on some reading. Once again, the Squirrels team has compiled a list of its favorite summer reading recommendations. This eclectic list of books (and podcasts) is sure to have something for everyone.
Happy Summer!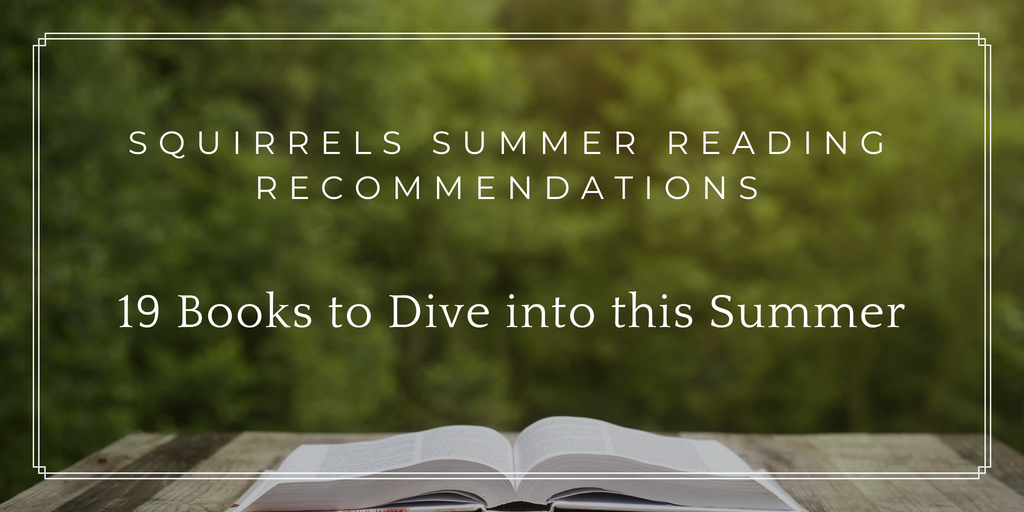 Becky Shiring, Director of Professional Development and Continued Learning
"A Secret Gift: How One Man's Kindness and a Trove of Letters Revealed the Hidden History of the Great Depression" by Ted Gup
This book shows how the smallest acts can counteract some of the greatest problems. This true story takes place in Canton, Ohio, and includes a ton of historical information about my new town!
---
Emily Carle Hafer, Alpha Squirrels Program Manager
"Harry Potter" by J.K. Rowling
It's never a bad time to read the Harry Potter series. You can read it in tandem with Harry Potter: Hogwarts Mystery, the mobile role-playing game.
"Tasks Before Apps: Designing Rigorous Learning in a Tech-Rich Classroom" by Monica Burns
Monica creates amazing resources for educators implementing technology in their work. She includes personal experiences from her work in education as well as her travels around the world. This book allows educators to start with a strong foundation and build up to effective technology integration.
"The Hate U Give" by Angie Thomas
A powerful message to provoke meaningful conversations in and out of the classroom. It's been a must-read for over a year now, but this fall you'll see the book come to life as a movie.
---
Erica Betz, Admin/HR Rep
"Anya's Ghost" by Vera Brosgol
This graphic novel is a sweet and spooky coming-of-age story. I got the digital version and read it on my phone in just a few hours. Great for traveling and car rides!
"The Ultimate Vegan Cookbook for Your Instant Pot" by Kathy Hester
This book is full of really simple, healthy and DELICIOUS recipes. I love the lentils and rice recipe, but there are a variety to try!
"When You Are Engulfed In Flames" by David Sedaris
This collection of essays will have you lost in thought and laughing aloud as you read. Sedaris is famous for witty, dark humor and anecdotes that leave readers wanting more. I loved all his books, but this one is my favorite. Perfect to pick up and read one essay at a time or all in one sitting!
---
Matt Elsey, Director of Web Technologies
"The World According To Mister Rogers: Important Things To Remember" by Fred Rogers
Few people have the ability to encourage and uplift like Fred Rogers. This book is a great collection of quotes, thoughts and reminders of what's important. It's a quick and easy way to get perspective in your daily life.
---
Jon Zelasko, Senior Developer
"The Old Man and The Sea" by Ernest Hemingway
Though brief, this book is meant to be consumed leisurely like a fine whiskey. Its plain language disguises deeper meaning that changes over time. And like all classics, it tells a story that somehow captures a moment in time perfectly. I recommend enjoying it by an ocean as a way to escape a world filled with too many distractions.
---
Mike Bruin, Junior Developer
"Locke And Key, Vol. 1" by Joe Hill
This is a great graphic novel that combines horror, interesting art and a story that you can't help but follow. If you aren't familiar with graphic novels, this is a good one to start!
---
Jon Bishop, Creative Director of Marketing
"Fahrenheit 451" by Ray Bradbury
A book that'll make you think twice before playing Candy Crush or tuning in to 24-hour news.
"1984: New Classic Edition" by George Orwell
This book is full of eerie correlations to current affairs: demagoguery, authoritarianism, information control, deletion of government records, the list goes on. I deleted my Facebook!
---
Nate Wendell, ClassHub Support Specialist
"One Second After" by William R. Forstchen
An extremely grim look into life after a catastrophic failure of the power grid. You will cry at several points, but you won't be able to put it down either.
---
Christina Lamanna, Implementation Specialist
"Lilac Girls" by Martha Hall Kelly
The book was inspired by the life of a real World War II heroine. The story revolves around three women who experience life in unimaginable ways. It's one of those books you feel bounded with after reading.
---
Joseph McCulty, Business Analyst
"Frasier: A Cultural History" by Joseph and Kate Darowski
This book provides an excellent overview of the greatest sitcom of all time. Whether you are looking for a guide as you watch Frasier for the first time, or you've already watched it in its entirety five-plus times like I have, it offers a lot of great insight.
---
Alissa McGill, Developer Relations Engineer
"Limited Resources" (Podcast) by Marshall Sutcliffe and Luis Scott-Vargas
I love this podcast because it is the perfect combination of funny and deep strategy for the best trading card game to ever exist - Magic the Gathering.
---
Alisha Pero, Sales Administrator
"Still Foolin' 'Em: Where I've Been, Where I'm Going, and Where The Hell Are My Keys?" by Billy Crystal
I love hearing about his life. He is hilarious, thoughtful and keeps you engaged throughout the whole book. I like the audible version because he actually reads it himself! Try it. It is fantastic!
---
Connal Kelly, Account Executive
"In the Dark" (Podcast) by Madeleine Baran
A true crime podcast about the failures and cover-ups of two county sheriffs' offices. The first season investigates a well-known child abduction case. The second involves a man who has been tried six times for the same crime and has remained in prison for the past 21 years even after winning appeals. So mysterious and engaging!
---
Aaron Rinier, Director of Support
"They Call Me Supermensch: A Backstage Pass to the Amazing Worlds of Film, Food, and Rock'n'roll" by Shep Gordon
Shep Gordon is an amazing storyteller and a very interesting man. Pretty easy, fun read.
Those are just a few of our favorites we're taking to the beach. What are your favorite summer reads? Comment below or tweet us @Squirrels with your own recommended page-turners.