The first new Apple TV since 2012 promises to be one of the biggest tech hardware releases of 2015. What does this mean for AirParrot 2 customers? An unparalleled mirroring and streaming experience on a new, more powerful Apple TV.
We are excited to announce that both AirParrot and AirParrot 2 are compatible with Apple TV 4.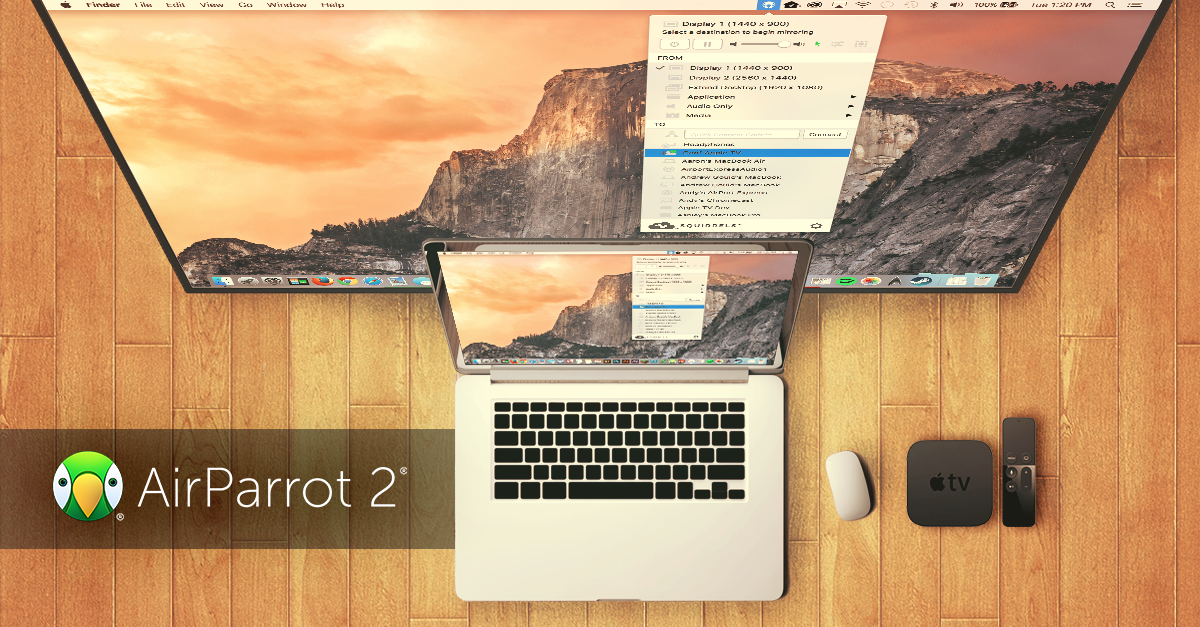 Now that we got the good news out of the way, we're going to hit you with more good news.
Compatibility with every mirroring-enabled Apple TV
The price tag on the Apple TV ($150) will likely create school, business and home environments with old and new Apple TVs. Luckily, AirParrot 2 users can mirror and stream their Mac or PC screens to multiple generations of Apple TVs simultaneously without worrying about compatibility issues.
AirParrot 2 vs. AirPlay and AirParrot 1
AirParrot 2 provides a much more robust screen-mirroring solution than the built-in AirPlay function found in newer Mac models. The ability to mirror to multiple devices simultaneously, media streaming and compatibility with Apple TV, Chromecast and Reflector 2 makes AirParrot 2 a more feature-rich screen-mirroring solution.
Bonus: AirParrot 2 gives users the option to mirror specific apps or windows instead of the entire computer screen for privacy or to highlight specific content.
Stream to Apple TV 4
AirParrot 2 users can wirelessly stream their favorite movies and songs from a Mac or PC to the Apple TV 4 with the AirParrot 2 streaming feature. Are you thinking what we're thinking? Looks like it's time to wirelessly stream that new Adele song or Jurassic World from your computer to your Apple TV 4. Simply open AirParrot 2 and enjoy the show!
Pro tip: We recommend streaming movies rather than mirroring them for the best results.
Apple TV 4 features
Apple TV 4 boasts new features of its own including a new operating system (tvOS) with access to an App Store, deep Siri integration, a touch-based remote control that doubles as a game controller and powerful new app-development tools.
Overall, the new Apple TV and AirParrot 2 are a perfect match. Enjoy!