Apple released its long-anticipated iOS 9.3 update to iPhone and iPad users yesterday, bringing great joy to consumers and cautious optimism to app developers.
Each new iOS iteration has the potential to open a new realm of possibilities for developers. It could also collapse their business overnight by introducing a native solution that renders their app useless.
It happens so often that it's known in the tech world as "getting Sherlocked," a reference to a 2002 Apple update that made the Watson search program obsolete.
Getting Sherlocked is often considered a death sentence, but is that always true? In the case of AirParrot, the first app that allowed users to wirelessly display and stream content from their computer to Apple TV and Chromecast, it was an opportunity.
AirParrot was released by Squirrels LLC on February 15, 2012. Apple announced its native AirPlay solution for Mac on February 16, 2012. Sherlocked.
Apple's iOS devices had previously been able to mirror to Apple TV, but this was the first Apple release that allowed MacBook computers to do it. The new mirroring solution from one of the world's biggest tech companies directly competed for market share with AirParrot, an app created by a small startup.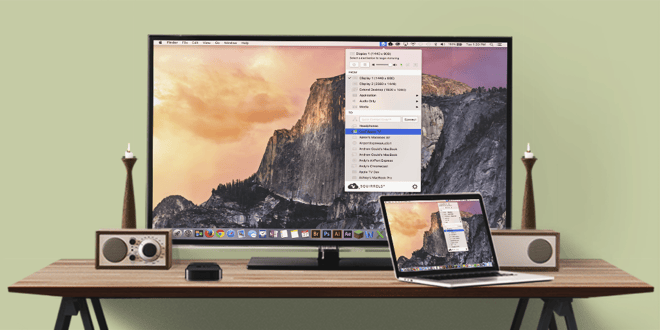 This story is common in the tech industry. Major companies unveil native solutions that directly compete with preexisting technology from smaller, privately held companies. The long list of Sherlocked products includes the following recent highlights:
2016: F.lux, with the release of Apple's Night Shift
2015: Spotify, Pandora, Rdio, after the release of Apple Music
2014: Dropbox, after the release of Apple iCloud Drive
2013: 1Password, after the release of Apple iCloud Keychain
It's easy to understand why less than one percent of apps succeed. Even if all the right market conditions are in place – cost, value, demand – and an app is developed and marketed to perfection, there's always the possibility that a major tech company will render it obsolete with a competing solution.
But being Sherlocked isn't always the end. Startups can turn being Sherlocked into an opportunity.
Leverage media coverage
Major tech corporations like Apple, Google and Microsoft are always in the news. A surplus of media coverage accompanies any new product or technology they announce. That media blitz is an opportunity for startups with alternative solutions that add value or serve different markets to gain media coverage.
Timing matters. Demand for news and information about newly announced technology is greatest when one of the major tech players is involved. Startup leaders should offer tech expertise, insight and alternative solutions to gain exposure for their products or services.
Rely on brand advocates
Companies that are in a position to be Sherlocked were in the market first with technology that's in demand. They likely have a database of customers that includes thought leaders, early tech adopters and most importantly, brand advocates. These consumers can provide product testimonials and reviews. Fellow consumers are much more likely to trust the word of friends, family and people in their network than the word of a company trying to sell a product.
Squirrels took advantage of the AirPlay beta-testing period to grow its AirParrot user base and gain valuable brand advocates.
Differentiate the product
Sherlocked companies need to find ways to show consumers why their product is still relevant. The developer may need to devote resources to explore product enhancements to better compete with the larger corporations.
Three key differentiators separated AirParrot from AirPlay.
Availability
Word spread through tech publications and message boards that there was an AirPlay alternative that was available immediately. Users didn't have to wait through the AirPlay beta-testing period.
Compatibility
Apple's AirPlay solution was only available on new Mac models, making AirParrot a more accessible option for Mac and Windows users to mirror content to their Apple TVs.
Adaptability
In addition to compatibility with older Macs, subsequent feature updates further differentiated AirParrot from Apple's native AirPlay mirroring. Now four years later, AirParrot 2 has bridged the technological divide between MacBooks, Windows computers and Google Chromebooks, allowing users of any of those devices to mirror and stream their computer screens to one or more Chromecasts and Apple TVs simultaneously.
AirParrot is still a market leader in screen-mirroring technology today. It thrives because it's a simple, cost-effective solution used by educators, developers, businesses and general consumers around the world to wirelessly share screens, test apps, extend desktops, enjoy music and make meeting rooms more collaborative.
So how can a tech startup survive when a tech titan adopts a similar solution? Leverage the inevitable influx of media coverage, rely on pre-existing product advocates to raise awareness and continue to add differentiators that make its product more accessible, compatible and adaptable than competing solutions.
To learn more about AirParrot, visit http://www.airsquirrels.com/airparrot/.