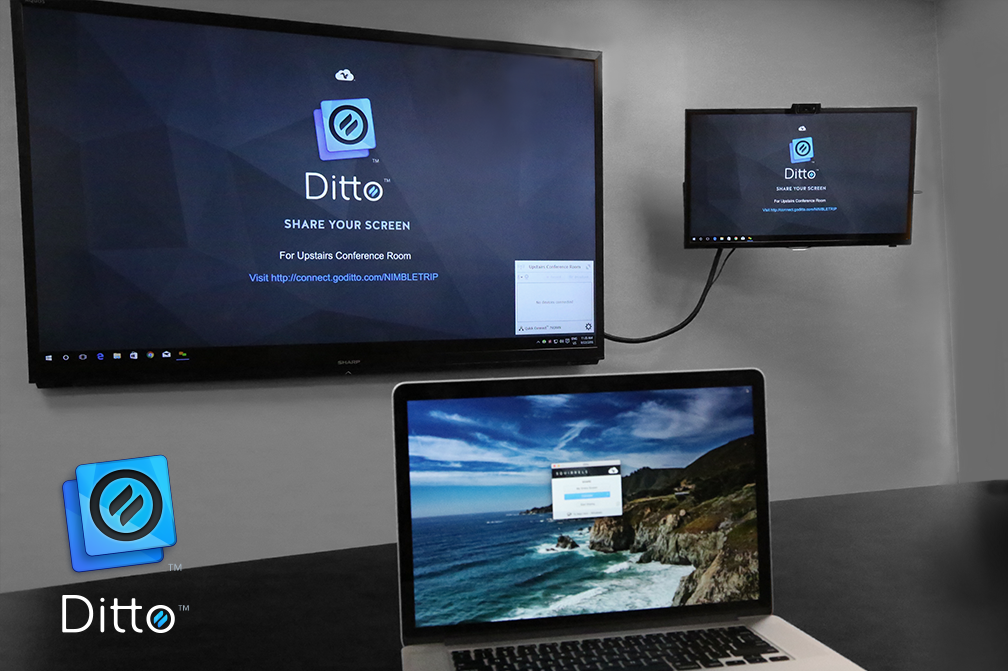 Ditto is a versatile screen-sharing solution. It allows anyone to easily share their computer screen to a display connected to an Apple TV, Chromecast or any computer equipped with our Reflector 2 software.
Conference room displays and TVs are commonly powered by a computer so presenters can incorporate software for note taking and online conferencing. If that computer is also equipped with Reflector 2—a software that receives AirPlay and Google Cast connections—then others in the room can wirelessly share their iOS, Android, Chromebook, Mac and PC screens to the conference room display.
So how does our Ditto Mac/PC screen-sharing service work with our Reflector AirPlay/Google Cast receiving app? It's surprisingly simple!
The process is similar to setting up a Chromecast or Apple TV. To begin, be sure you've downloaded and installed the Reflector 2 screen-mirroring receiver on your Mac or PC.
Once installed, open Reflector 2. The computer will begin broadcasting as an available receiver for iOS and Android devices. Our Ditto configuration utility will also see Reflector 2 running on the computer and allow it as a supported receiver. The configuration utility is the easiest and best way to add a Reflector-enabled computer to your Ditto account. Alternatively, you can manually add the computer to your Ditto account by entering the receiving computer's information in the Ditto account portal.
Once the computer running Reflector 2 is added to Ditto, anyone with a computer and an internet connection can wirelessly share their screen to the Reflector-enabled computer. All they have to do is visit connect.goditto.com and enter the Reflector-enabled computer's unique Ditto code.