There are two main players in the screen-mirroring arena right now: Apple TV and Chromecast. Both have pros and cons. We'll discuss those differences along with Ditto, the newest screen-sharing service on the market.
Functionality
While Apple TV and Chromecast were both created to solve content-sharing problems, they solve the problem differently.
Apple TV
Apple TV allows users to install apps like games, TV channels and movie/TV services such as Netflix and HBO Go. Apple TV was built to be a stand-alone unit. Users can plug it in and use the included remote to navigate menus and content.
The device pulls content from specified service providers when a user tells it to.
Both the new generation and previous generation Apple TV work this way, but the slightly older models require users to stick with preinstalled applications.
Chromecast
Chromecast was created to work with mobile devices and computers. The package does not include a remote, and when plugged in, the device will prompt the user to download a mobile application for setup. The mobile application works with both Android and iOS.
Unlike Apple TV, Chromecast does not rely on installed applications. Users push content to the device from mobile phones, tablets or computers.
Form Factor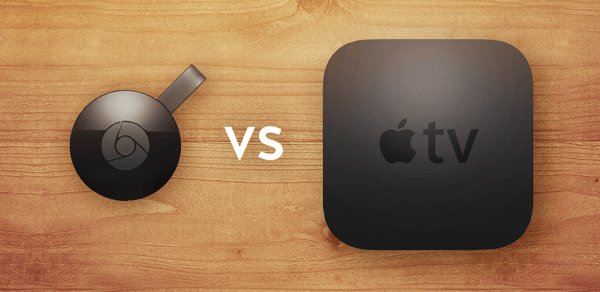 Chromecast is meant to be hidden away behind a TV. Apple TV is meant to sit front and center for all to see.
Mobile Screen Sharing
Android users can easily share their device screen to a Chromecast. Likewise, iPad and iPhone users can easily share their screen to Apple TV. The process is similar for both setups. However, the two cannot cross. For example, iPad users cannot mirror their screen to a Chromecast and Android users cannot mirror their mobile device screen to Apple TV.
Desktop Screen Sharing
Apple users can easily share Mac screens to an Apple TV using the built in AirPlay feature. However, Apple users cannot share their entire computer display to Chromecast. Windows users actually can't natively share their entire desktop to Apple TV or Chromecast.
Price
Apple TV
Apple TV has been available for years. The device is currently in its fourth and most expensive iteration. The new Apple TV is priced at $149 and $199 depending on storage options. The slightly older third-generation Apple TV is priced at $69.
Chromecast
The currently available 2nd-generation Chromecast retails for $35. For users who don't need the bells and whistles of an Apple TV, it's the more cost-effective option.
Alternative Screen-Sharing Solutions
Our team specializes in screen-sharing solutions that allow everyone, regardless of their operating system, to share to either receiver (Apple TV or Chromecast). In the screen-mirroring world, our products don't care which receiver you use. We have bridged the technological divide between the set-top boxes and receivers created by tech giants such as Apple and Google.
Our AirParrot 2 software allows individual Mac and PC users alike to share their screen to Apple TV or Chromecast. AirParrot even allows users to mirror and stream to both Apple TV and Chromecast simultaneously, if needed.
Ditto, our newest offering, bridges this gap for organizations that may not want to purchase software for every employee and guest. It brings a unified and consistent screen-sharing experience to conference rooms and meeting spaces in any business, school or institution.

Multiple Users
Use the Ditto screen-sharing service to mirror employee and guest screens to Chromecast or Apple TV. Ditto is a service that allows unlimited screen sharing to a receiver regardless of the user. Ditto is priced per room, not per user, so your business doesn't need to pay for a software license for each individual employee or guest.
Single User
AirParrot 2 is a robust, dynamic screen-mirroring and media-streaming software. It allows a single user to mirror their desktop or a single application to one or more receivers (Apple TV, Chromecast or Reflector-enabled computers) simultaneously. Once installed on a user's computer, they can mirror their screen, stream media or extend their desktop to the appropriate receiver.
Apple TV or Chromecast?
Which solution is right for you? There isn't an easy answer! It completely depends on your personal or business-related screen-sharing needs, the devices you have available and the third party screen-sharing services you choose to use.
Learn more about our industry-leading screen mirroring and streaming solutions at www.airsquirrels.com.