Do you remember the last conference presentation you attended that didn't include a visual aid? Neither do we!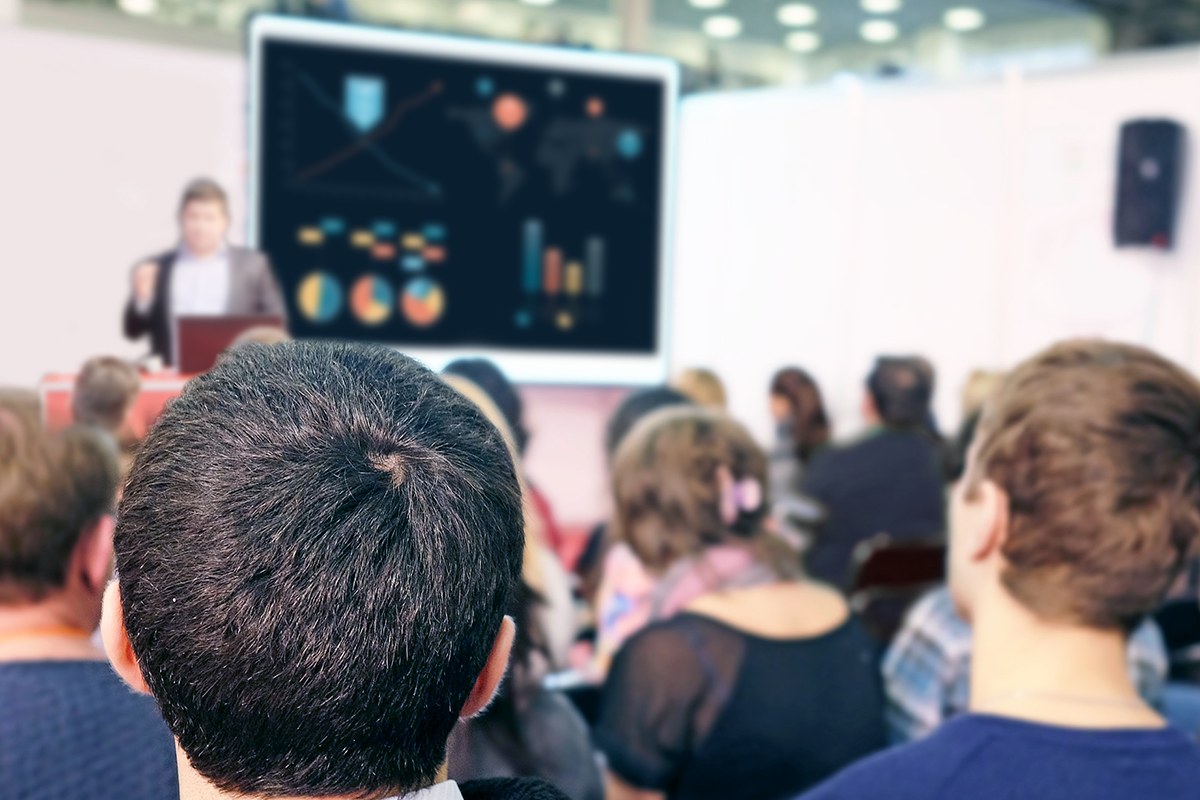 Every good speaker has a captivating stage presence and a thoughtful visual aid to accompany their words. Whether it's PowerPoint, Keynote, Prezi or something else, the presenter almost always needs to share what's on their laptop with the audience.
This presents a problem for the average convention center or conference room. Is the presenter using a Mac or PC? Does the room have compatible connectors and cables to display the presenter's screen? How about wireless capabilities? Does the room have an Apple TV or a Chromecast?
With the Ditto screen-sharing service, presenters don't have to worry about any of that. Ditto makes screen sharing in conference rooms and meeting spaces simple and consistent.
What's Ditto?
Ditto is a cloud-based service that brings unlimited and completely wireless screen-sharing capabilities to any room containing an Apple TV or Chromecast. It can be explained in two steps.
Sign Up
When you sign up for Ditto, the receiver in each room you are registering receives a unique connection code.
Begin sharing your Mac/PC screen
After registering a room, sharing a Mac or PC screen to the Apple TV/Chromecast-connected display is easy. Anyone who needs to share their screen can simply visit connect.goditto.com and enter the unique room code. Since each code is tied to a specific Apple TV/Chromecast, it automatically knows which screen a user is trying to share their computer screen to.

After pressing "Launch," Ditto will quickly save a one-time download to the user's computer. Ditto will then give the user an option to either share their entire computer display or just a specific application (such as PowerPoint, an Internet browser, a photo app, etc.) to the big screen. When the user is done sharing their screen, they close the Ditto application and the one-time download is wiped from their computer.
Ditto is completely wireless. Presenters no longer have to fuss with those tangled, incompatible and confusing connection wires or cords often required to share content to the big screen. They also don't need special software on their computer to connect wirelessly. That ability is built into the Ditto screen-sharing service.
Speaking of sharing content to the big screen, anyone can do it! A yearly subscription to Ditto is priced per room, not per user. Presenters, guests, employees – anyone – can immediately share their computer screen simply by entering the room code at connect.goditto.com because Ditto is completely unlimited.
Cross-platform connections
You may have realized this by now, but presenters are not bound by their computer brand in Ditto-powered rooms. Presenters using Macs can wirelessly share their screen to Apple TV OR Chromecast. Presenters using PCs can wirelessly share their screen to Chromecast OR Apple TV.
Presenters with iOS/Android phone and tablets
So what if speakers want to present from their iOS or Android device in a room that has the Ditto screen-sharing service? If Ditto is registered in a room with an Apple TV, then speakers can still present from iOS devices natively using AirPlay. If Ditto is registered in a room with a Chromecast, then speakers can present from Android devices and Chromebooks natively using Google Cast.
Reflector
The only perceived limitation is iOS devices in rooms with a Chromecast and Android devices in rooms with an Apple TV. This issue is resolved if the conference room or speaking hall has our Reflector AirPlay/Cast receiving software ($14.99) installed on an in-room computer. Reflector allows presenters to wirelessly display their Android, iOS and Chromebook screens onto a Mac or PC. If the Reflector-enabled computer is connected to an external display, the speaker can present from his or her mobile device.
Ditto screen sharing
Questions? We're happy to answer all of them! Leave us a comment in the comment section below or contact our sales team.
Or, to bring the Ditto screen-sharing service to your conference hall today, visit www.goditto.com.