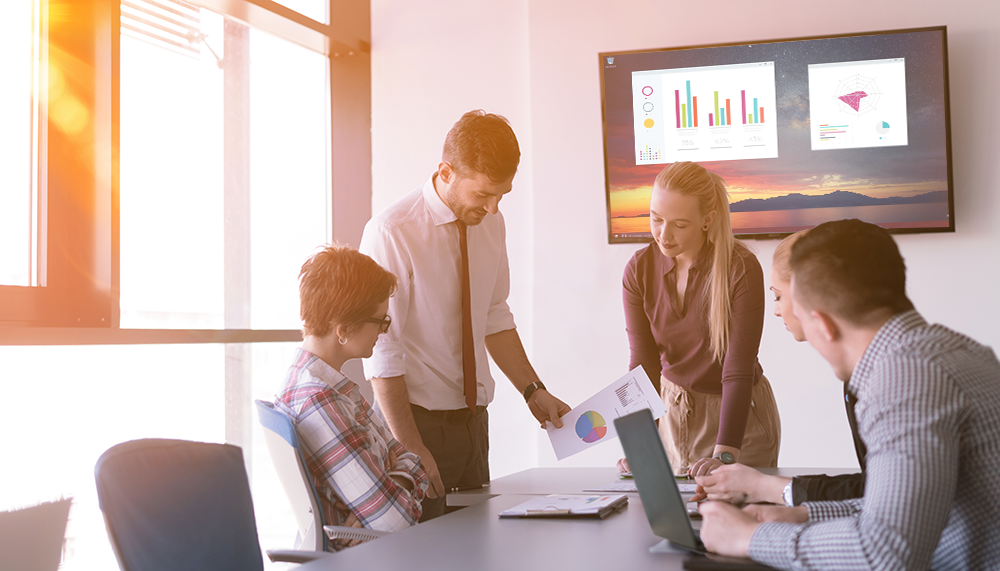 The Ditto screen-sharing service promotes easy collaboration and connectivity among peers in company huddle spaces.
Huddle room meetings are meant to be personal, quick and effective. The technology in a huddle room must match those attributes. As companies continue to replace traditional conference rooms with a larger number of smaller, more intimate huddle rooms, they must manage the costs of outfitting these rooms with the needed resources.
Ditto adds a required feature of any modern-day meeting space at an unbeatable price.
For $149.99/year, Ditto brings easy-to-use and completely unlimited screen sharing to any huddle space. No wires. No additional hardware. No connection confusion for employees.
What is Ditto?
Ditto is a cloud-based screen-sharing service. It allows any employee, guest or presenter with a Mac or PC to immediately (and wirelessly) share their screen to a huddle room display.
Ditto can be used in any huddle room that has an Apple TV, Chromecast or Reflector-connected display.
How does Ditto work?
When your company signs up for Ditto, each registered huddle space receives a unique Ditto code that is linked to the Apple TV, Chromecast or Reflector-connected device.
During a meeting, any attendee can instantly share their computer screen to the huddle room TV or display simply by visiting connect.goditto.com and entering the room's Ditto code. Ditto immediately knows which receiver to connect a user's screen to based on the code that is entered.
Cross-platform connections
Mac users can wirelessly connect to Chromecasts, and PC users can wirelessly connect to Apple TVs. And vice versa.
Full screen or app-specific screen-sharing
Ditto gives you the option to share your entire computer display or a single window or application. This helps remove distractions and ensures that peers in the huddle room are focused only on the most important content.
Why Ditto?

Ditto saves…big time
An annual Ditto subscription saves hundreds to thousands of dollars compared to alternative hardware- and software-based screen-sharing solutions.
Ditto is unlimited
Anyone who walks through the door of your business can join a meeting and share their computer screen to the correct display instantly without worrying about hardware incompatibilities or required software.
Ditto is ideal for huddle spaces
Huddle room meetings are meant to be streamlined and effective. Shouldn't your company's screen-sharing technology be the same?
To bring the Ditto screen-sharing service to your common room or shared meeting space, visit www.goditto.com. Feel free to leave any feedback or questions in the comment section below!