It takes just one good idea to completely alter a way of life. Apple transformed music consumption with iTunes. Dropbox transformed digital file storage and sharing with its cloud-based storage service. As for the Squirrels team? Well, we just transformed all of your future business meetings with our Ditto screen-sharing service.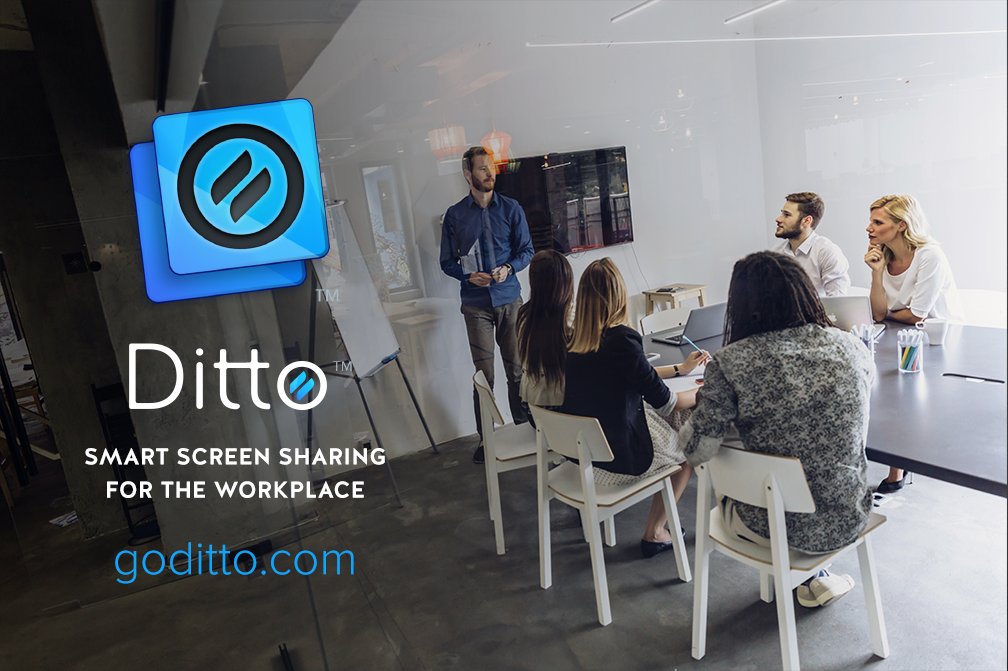 Ditto is an automatic, unlimited screen-sharing service designed for any conference room equipped with an Apple TV or Chromecast. The Apple TV or Chromecast in each one of your conference rooms receives a unique Ditto code. This allows any employee, speaker or guest to share their Mac or PC screen to the big screen instantly by visiting www.goditto.com and entering the code.
Ditto is wireless, so you can leave the antiquated cord-connection method in the past. It's also cloud based, so it doesn't require complicated and complex software licenses for each individual who wants to share content to the big screen. An unlimited number of users can share their computer screen in any Ditto-enabled conference room. Yes, unlimited. You, your coworkers, a random passerby on the street…anybody can walk into a Ditto-enabled room and share their computer screen instantly. Crazy, right?
It's 2016. It shouldn't be hard for people to share important documents, presentations and proposals to a roomful of peers and coworkers. Ditto removes technological barriers to make screen sharing easy. Truly easy. Mac users can wirelessly share their screen to Apple TV AND Chromecast. PC users can wirelessly share their screen to Apple TV and Chromecast as well.
Multiple Apple TVs or Chromecasts in the workplace
What if you have multiple Apple TVs or Chromecast devices in your workplace? Ditto automatically knows which one a user is trying to connect to based on the code that's entered at https://account.goditto.com/connect. That's right. That means there's no more, "What's the name of this conference room again? Are we in conference room four or six?"
Ditto screen sharing price
At just $149.99/year per room, Ditto is hundreds to thousands of dollars cheaper than alternative conference room screen-sharing solutions.
Any questions? Let us know in the comments below! You can also learn more or begin your 30-day free Ditto trial at www.goditto.com.
Bonus: Discover what makes connecting to an Apple TV with Ditto better than connecting via standard AirPlay. Or, learn a little-known Apple TV feature that will make connecting to Ditto even easier.