In 2014, we introduced AirParrot 2 — a completely rebuilt, supercharged and feature-packed version of the original AirParrot. We continued support for AirParrot for quite some time, but that time has come to an end. We will no longer be updating the original version of AirParrot.
The original version of AirParrot will not be compatible with new operating systems or the latest versions of the Apple TV. The release of tvOS 10 makes AirParrot incompatible with the fourth generation Apple TV, and the release of macOS Sierra will render certain parts of the application unusable.
AirParrot 2 will continue to receive operating system and receiver compatibility updates. We encourage you to upgrade to AirParrot 2 to ensure uninterrupted screen sharing.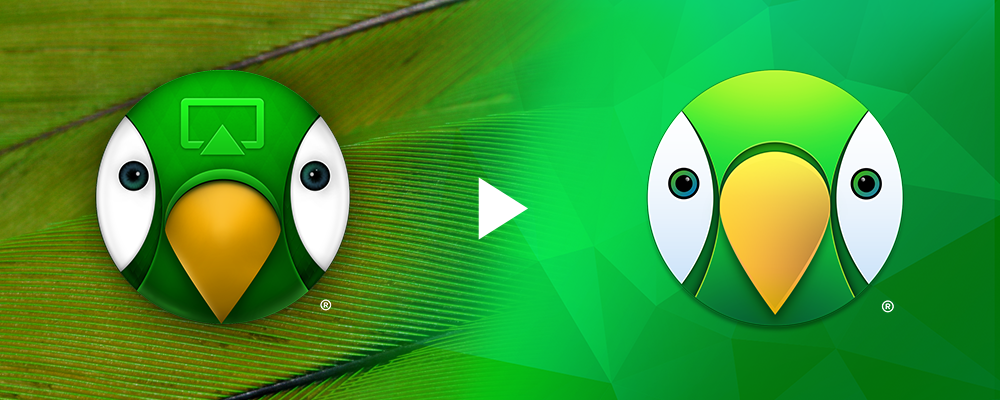 Want to know more about AirParrot 2?
AirParrot 2 includes a number of new features over its predecessor.
Media Streaming
Stream media files to your TV for a buffer- and stutter-free experience. Streamed media supports 5.1 audio!
New Receiver Support
Connect to Chromecast, Apple TV and Reflector-enabled devices. AirParrot 2 enables streaming and mirroring to a variety of devices.
AirParrot Remote
Remotely control AirParrot 2 with your iPhone or iPad. Easily control what's being sent from your computer to Apple TV or Chromecast without touching your keyboard or mouse.
Multiple Destinations
Connect to multiple receivers of any type at the same time. Stream your favorite movies to every TV in the house!
AirParrot 2 is a huge upgrade over the original version. We made a number of improvements and added a ton of new features. AirParrot 2 is available from our online store.