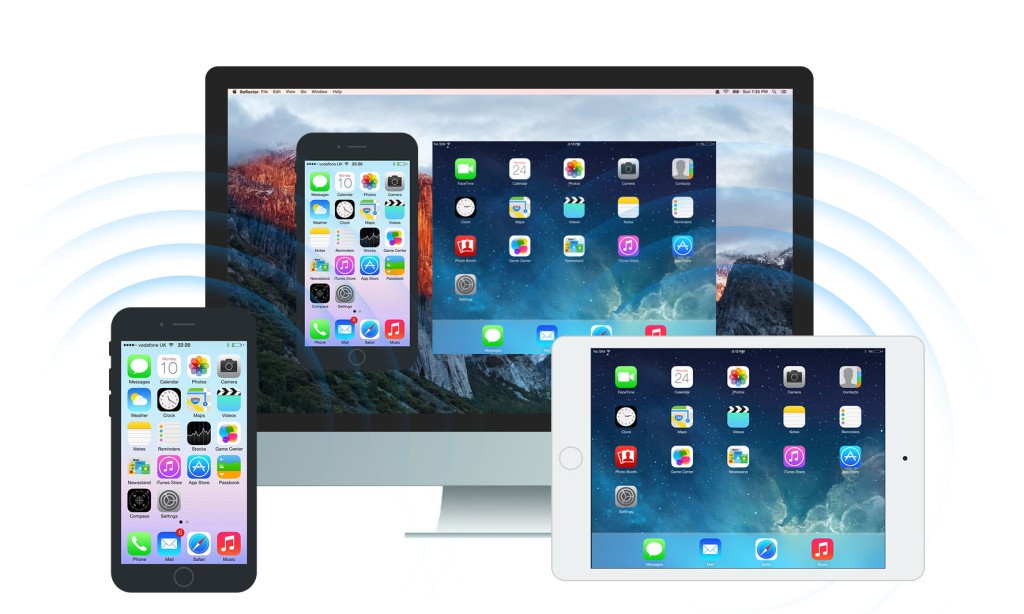 Screen mirroring technology has become more mainstream over the last few years. Prominent tech companies such as Samsung, Google and Apple have adopted screen mirroring in the form of their "Cast" and "AirPlay" technology. So what is screen mirroring and how does it work?
What is screen mirroring?
Screen mirroring is a form of wireless communication between devices that allows users to stream media, display content, record videos and more from one device screen to another. To put it simply, it's a way for your phone, tablet or computer screen to appear on another screen wirelessly.
This technology is used in many industries to quickly and easily share content from one device to another. Educators, gamers, business professionals and general consumers use screen-mirroring technology for in-class content sharing, collaboration, meetings and mobile gameplay recording. For instance, screen mirroring can be used to take the budget reports or family photos on a little mobile device screen and wirelessly display it on a bigger, more visible screen.
How does is work?
There is no universal way to mirror device screens across all platforms. This can become confusing and frustrating to understand since each device uses different terminology and requires a different process. A lack of consistency has put an emphasis on third-party screen-mirroring solutions with cross-platform capabilities.
Here's how screen mirroring differs among popular mobile devices and industries:
iOS devices: Use native AirPlay by swiping up from the bottom of the iPhone, iPad or iPod Touch and select "AirPlay Mirroring" to view a list of available AirPlay receivers. Available receivers to connect to include Apple TV (hardware) and Reflector (an AirPlay and Cast receiving software for Mac/PC).
Chromebooks: Use native Cast technology built into the device by right clicking on the user icon in the bottom right-hand corner of the Chromebook desktop, select "Cast Devices Available" and choose from the list of available receivers to mirror to. Available receivers to connect to include Chromecast and Reflector.
Here's how screen mirroring differs among popular laptops:
macOS computers - These devices can screen mirror or stream content using built-in AirPlay (only available on Apple laptops released in 2012 or later) to Apple TV (hardware) or devices that are running Reflector, such as Windows computers, Android devices and Amazon Fire TV. In addition, adding third-party screen-mirroring software such as AirParrot allows Mac users to mirror or stream content to Chromecast or Apple TV with advanced features.
Windows computers - These devices are not equipped with native screen-mirroring technology. However, users can add AirParrot software to a computer to wirelessly mirror and stream content to Apple TVs, Chromecasts and Reflector-enabled devices.
Cloud-based screen-mirroring technology is a more recent screen-mirroing development.
Ditto - Ditto is a cloud-based screen-mirroring technology that's commonly used in business, higher education and hospitality environments. It assigns unique identification codes to Apple TVs and Chromecasts. Anyone with a Mac or Windows computer can walk into a room, enter that code at www.goditto.com and automatically connect their computer to the appropriate AirPlay or Cast receiver.
Education
Educators use screen mirroring to display and compare student work, record lesson plans, allow students to compete in education games side-by-side and so much more. Schools use third-party screen-mirroring receivers such as Reflector to wirelessly display mobile devices on the teacher's computer. Teachers can then display student content to the entire class by hooking up their computer to a projector or interactive whiteboard. This is a perfect way to display art projects, compare a history report or have fun student competition with apps like Quizlet.
Gaming
Mobile gamers use screen-mirroring solutions to mirror gameplay from their device to a computer screen. They are able to record the gameplay and upload the video, or live stream it from their device directly to YouTube when using a solution such as Reflector. So if you are an avid Candy Crush player, this is how you can record your skills and upload gameplay for the world to see.
Business
Business professionals share presentations or reports, brainstorm and collaborate with one another directly from their tablets or phones to a computer screen or share from a computer screen to an Apple TV or Chromecast. Small businesses all the way up to enterprise-level companies can benefit from a screen-mirroring experience, whether you are brainstorming on the next t-shirt design or sharing a budget report.
Do you have any screen-mirroring experience or unique applications? Leave us your feedback in the comment section below. Check out the Squirrels suite of cross-platform screen-mirroring technology at www.airsquirrels.com for more details.