It's officially award season. Up first…the Golden Globes!
This event is televised to 167 countries worldwide and generally ranks as the third most-watched awards show each year behind the Oscars and Grammy Awards.
If you want to watch the Golden Globes but don't want to pay the price of cable, here's a way that you can stream it.
Stream the Golden Globe Awards:
Viewers can stream the Golden Globe Awards on NBC using the streaming service that many cord cutters turn to, Sling TV. Subscribers who choose the Sling Blue package ($25/mo) have access to a number of channels, including NBC. However, if you only want to watch this one glamorous event, you can try Sling TV free for seven days!
Note: NBC live local feed in select markets, on-demand elsewhere.
Pro tip:
Finding ways to stream live TV is only half the battle for cord cutters. After all, nobody wants to watch Ryan Gosling or Natalie Portman accept an award on a tiny computer screen. Download AirParrot 2 on your Mac or PC to wirelessly mirror that live broadcast from your computer directly to an Apple TV or Chromecast.
Use your Sling TV account in the Chrome or Firefox browser to stream the event. Then open AirParrot and select your browser as the "From" option. Select your Apple TV or Chromecast as the "To" option. This will allow you to experience all the action on the big screen.
The image below was taken from the AirParrot menu and shows you how to do this. You simply select your browser or application. Then select where to send it.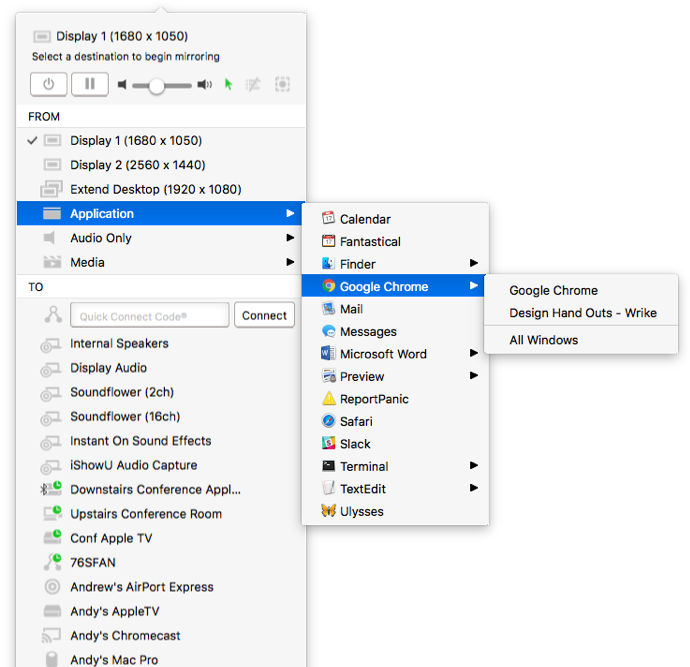 January 8, 2017
Golden globes
8:00 p.m. ET
Nominees include:
La La Land – Best Motion Picture – Musical or Comedy
Manchester by the Sea – Best Motion Picture – Drama
Tom Ford – Best Director – Motion Picture
Stranger Things – Best Television Series – Drama
Jonah Hill – Best Actor – Motion Picture Musical or Comedy
Winona Ryder – Best Performance by an Actress in a Television Series - Drama
Learn more about the AirParrot 2 desktop mirroring/streaming app.