It all comes down to this. After 16 regular season games played through the snow, wind, heat and rain, the NFL is in its final stretch to the Super Bowl.
We're here to make sure you don't miss out on the heroics of Ezekiel Elliott, Tom Brady or Aaron Rodgers because you don't have a cable subscription. Here are a number of ways cord cutters can stream the NFL playoffs online.
Note: If you already have a cable subscription but still want to stream the games online, you can login with your respective cable provider and live stream on CBS Sports, ESPN Sports, NBC Sports and Fox Sports Live.
DirecTV NOW
One of the newest solutions for cord cutters is DirecTV NOW by AT&T. This online streaming service offers you more than 60 TV channels for $35/mo without a contract (or you can try it free for seven days). DirecTV NOW offers ESPN as well as FOX and NBC in select areas. You can use this service on most streaming devices including computers and mobile devices.
Sling TV
Sling TV is one of the best ways for cord cutters to stream live TV without a cable subscription (as mentioned in our previous blog posts: How Cord Cutter's Can Stream Dick Clark's Rockin' New Year's Eve and Cord Cutter's Guide: How to Stream the Golden Globes). Subscribers who choose the Sling Blue package ($25/mo) have access to a number of channels, including NBC and Fox. However, if you only want to watch one game, you can try Sling TV free for seven days!
Note: NBC live local feed in select markets, on-demand elsewhere.
CBS All Access
CBS All Access is a streaming service designed for viewers to watch CBS programming and NFL Playoff games. For $5.99/mo, users will be able to enjoy all the action of the NFL Playoffs in addition to more than 8,500 episodes of hit CBS shows on-demand.
PlayStation Vue
Good news, PlayStation owners! You can watch your favorite team right from your gaming console. PlayStation Vue offers a large package of channels including Fox, CBS and NBC, which is perfect for watching live NFL Playoff games. The package starts at $29.99/mo and does not require a contract. This service is compatible with PlayStation 3 and PlayStation 4. Try it free!
Note: Channel availability, pricing and supported devices are subject to change and may vary by location.
Digital Antenna
All NFL games will be broadcasted on over-the-air channels and can be accessed through an antenna connected to your TV. As long as you are living in range of local stations, you can watch every pass and touchdown in your living room. Here's how to choose the best antenna for you.
Pro tip:
Finding ways to stream live TV is only half the battle for cord cutters. After all, nobody wants to watch a game-winning touchdown pass with a roomful of people crowded around a tiny computer screen. Download AirParrot 2 on your Mac or PC to wirelessly mirror that live broadcast from your computer directly to an Apple TV or Chromecast.
Use your Sling TV, DirecTV NOW or CBS All Access account in the Chrome or Firefox browser to stream the event. Then open AirParrot and select your browser as the "From" option. Select your Apple TV or Chromecast as the "To" option. This will allow you to experience all the action on the big screen.
The image below was taken from the AirParrot menu and shows you how to do this. You simply select your browser or application. Then select where to send it.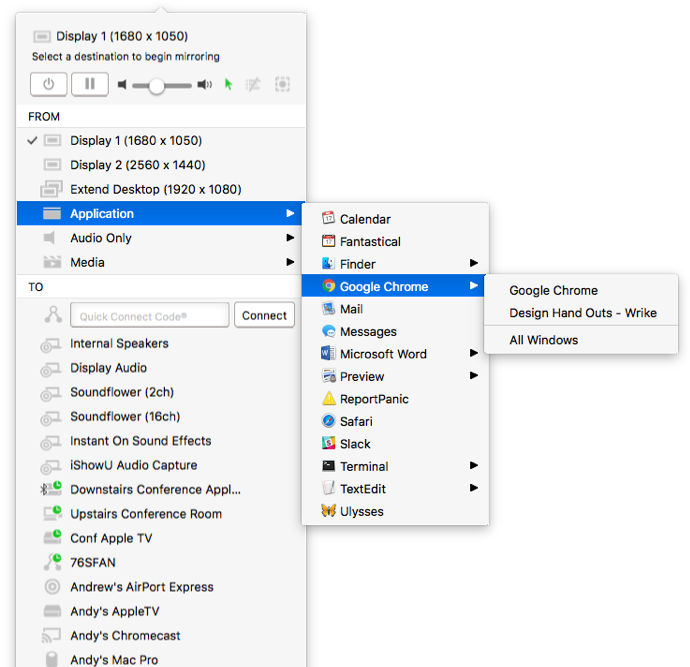 Learn more about the AirParrot 2 desktop mirroring/streaming app.