The best basketball players in the world share the court only once a year – during the NBA All-Star Weekend.
NBA All-Star Weekend showcases the spectacular talents of some of the league's most skilled players in both the Western and Eastern Conference. From the Verizon Slam Dunk Contest to the Three-Point Contest and of course the 66th NBA All-Star Game, this weekend is sure to impress.
You shouldn't miss out on LeBron James, James Harden, Russell Westbrook and Kevin Durant highlights just because you don't have cable. Here are a few legal ways to stream all of the action online.
Sling TV
Sling TV is one of the top ways that cord cutters can stream live TV without a cable subscription. Subscribers who choose either the Sling Blue package ($25/mo) or the Sling Orange package ($20/mo) have access to a number of channels including TNT. However, if you only want to watch this weekend's events, you can try Sling TV free for seven days!
DirecTV NOW
One of the newest solutions for cord cutters is DIRECTV NOW by AT&T. This online streaming service offers you more than 60 TV channels, including TNT, for $35/mo without a contract (or you can try it free for seven days). You can use this service on most streaming devices, including computers and mobile devices.
PlayStation Vue
Good news, PlayStation owners! You, too, can stream your favorite channels all from your gaming console. With plans starting at $29.99 a month, Vue offers viewers a large variety of channels, including TNT. This is a great value to cord cutters, and it's compatible with PlayStation 3 and PlayStation 4. Try it free!
Pro tip:
Finding ways to stream live TV is only half the battle for cord cutters. After all, nobody wants to watch a slam dunk or an alley-oop on a tiny computer screen. Download AirParrot 2 on your Mac or PC to wirelessly mirror that live broadcast from your computer directly to an Apple TV or Chromecast.
Use your Sling TV or DirecTV Now account in the Chrome or Firefox browser to stream the event. Then open AirParrot and select your browser as the "From" option. Select your Apple TV or Chromecast as the "To" option. This will allow you to experience all the action on the big screen.
The image below was taken from the AirParrot menu and shows you how to do this. You simply select your browser or application. Then select where to send it.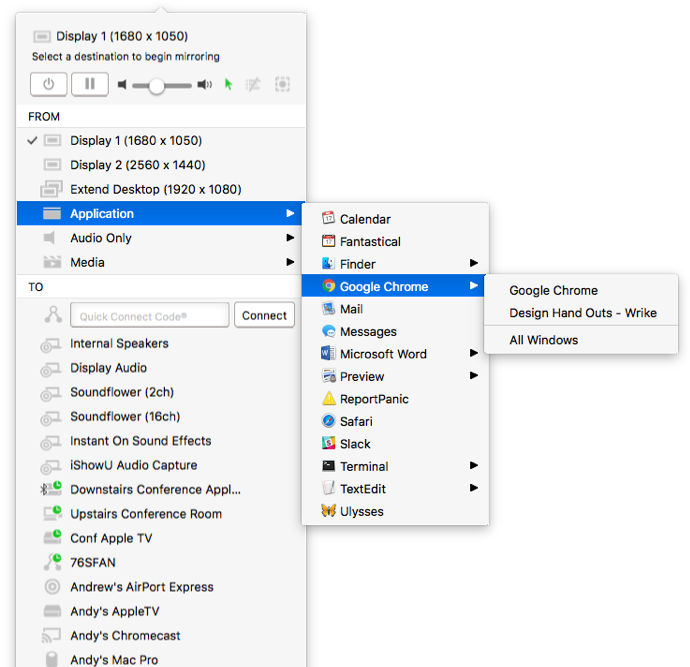 Sunday, February 19
NBA All-Star Game
8:00 p.m.
TNT
Let us know if you have any questions in the comments below!