"Live from New York, it's Saturday night!"
You don't need to be a comedy buff to know where this line is from.
Saturday Night Live has been one of the leading comedy staples on NBC since 1975, with celebrity hosts such as Steve Martin, Christopher Walken, John Goodman, Tom Hanks and Jimmy Fallon. Over the years SNL has contributed to some of the most memorable (and quotable) moments on TV with More Cowbell, Wayne's World, Celebrity Jeopardy, Adam Sandler's Hanukkah song, Chippendale's Audition and the Church Lady.
Don't miss a second of cold opens, Weekend Update or monologues because you don't have a cable subscription. Here are three ways you can stream all the skits online.
Sling TV
Sling TV is one of the top ways that cord cutters can stream live TV without a cable subscription. Subscribers who choose the Sling Blue package ($25/mo) have access to a number of channels including NBC. However, if you only want to watch one particular episode, you can try Sling TV free for seven days!
Note: NBC live local feed in select markets, on-demand elsewhere.
PlayStation Vue
Good news, PlayStation owners! You too can stream your favorite channels all from your gaming console. With plans starting at $29.99-$39.99 a month depending on your market (for 50+ channels including NBC), Vue offers a great value for cord-cutters. This service is compatible with PlayStation 3 and PlayStation 4. Try it free!
Note: NBC is now offered in most areas across the nation, but it's on-demand only. NBC live streaming is not offered nationwide by Vue at this time
DirecTV NOW
One of the newest solutions for cord cutters is DirecTV NOW by AT&T. This online streaming service offers you more than 60 TV channels for $35/mo without a contract (or you can try it free for seven days). DirecTV NOW offers NBC in select areas. You can use this service on most streaming devices including computers and mobile devices.
Note: Plug your zipcode into the websites for Sling, Vue, and DirecTV Now to see if you can get the feeds mentioned below.
Digital Antenna
NBC programming will be available over the air if you are connected with an antenna and in range of the local broadcast area. That means you can actually watch many of your NBC favorites for free including Saturday Night Live. Here's how to choose the best antenna for you.
Pro tip:
Finding ways to stream live TV is only half the battle for cord cutters. After all, nobody wants to watch a hilarious Bill Hader skit with a roomful of people crowded around a tiny computer screen. Download AirParrot 2 on your Mac or PC to wirelessly mirror that live broadcast from your computer directly to an Apple TV or Chromecast.
Use Sling TV or DirecTV Now in the Chrome or Firefox browser to stream the event. Then open AirParrot and select your browser as the "From" option. Select your Apple TV or Chromecast as the "To" option. This will allow you to experience all the laughs on the big screen.
The image below was taken from the AirParrot menu and shows you how to do this. You simply select your browser or application. Then select where to send it.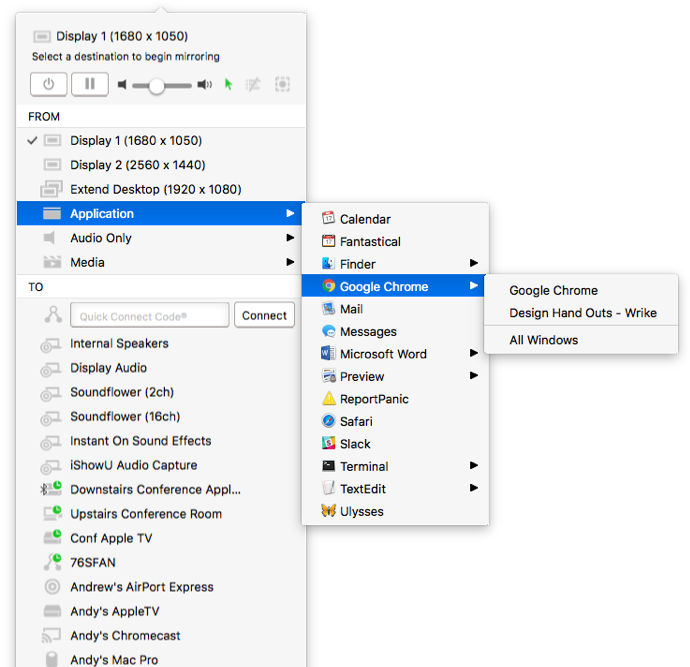 Saturday, February 11
11:30 p.m.
Host: Alec Baldwin
Musical Guest: Ed Sheeran