It's time for the Super Bowl! The New England Patriots are set to take on the Atlanta Falcons in Houston for the final game of the season. The Patriots have won the Super Bowl four times since Tom Brady took over, but the Matt Ryan-led Falcons will use the best offense in the NFL this season to try to claim the franchise's first championship.
Grab your friends, grab the chips and grab your computer, because we're going to tell you how you can stream the most important game of the NFL season online without a cable subscription.
Fox Sports Go
FOX will be streaming the game FOR FREE online at foxsportsgo.com. Fox is waiving its normal paid TV authentication for this sports event. Keep in mind, the commercials may not come with this stream. Local commercials will be displayed as opposed to the much-anticipated, nationally broadcasted Super Bowl commercials.
Pro tip:
Finding ways to stream live TV is only half the battle for cord cutters. After all, nobody wants to watch a game-winning touchdown pass with a roomful of people crowded around a tiny computer screen. Download AirParrot 2 on your Mac or PC to wirelessly mirror that live broadcast from your computer directly to an Apple TV or Chromecast.
Use Sling TV or Fox Sports Go in the Chrome or Firefox browser to stream the event. Then open AirParrot and select your browser as the "From" option. Select your Apple TV or Chromecast as the "To" option. This will allow you to experience all the action on the big screen.
The image below was taken from the AirParrot menu and shows you how to do this. You simply select your browser or application. Then select where to send it.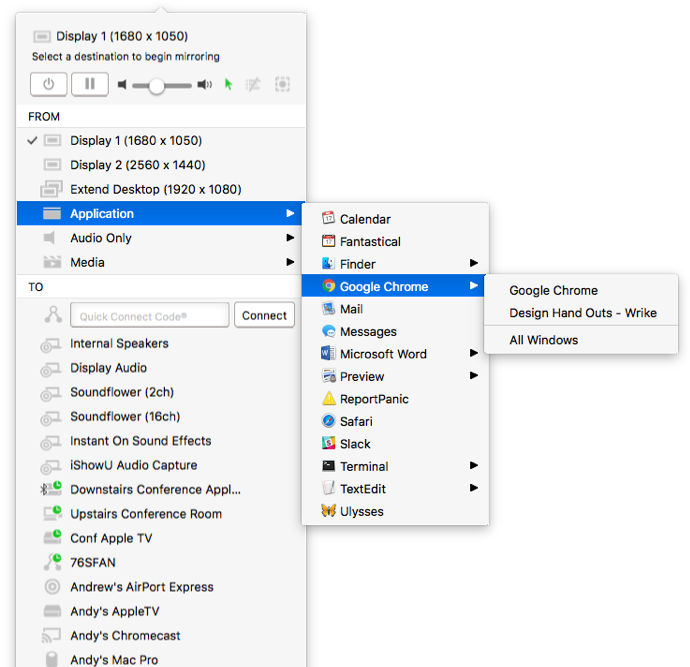 Sunday, February 5
Atlanta Falcons vs. New England Patriots
6:30 p.m.
FOX