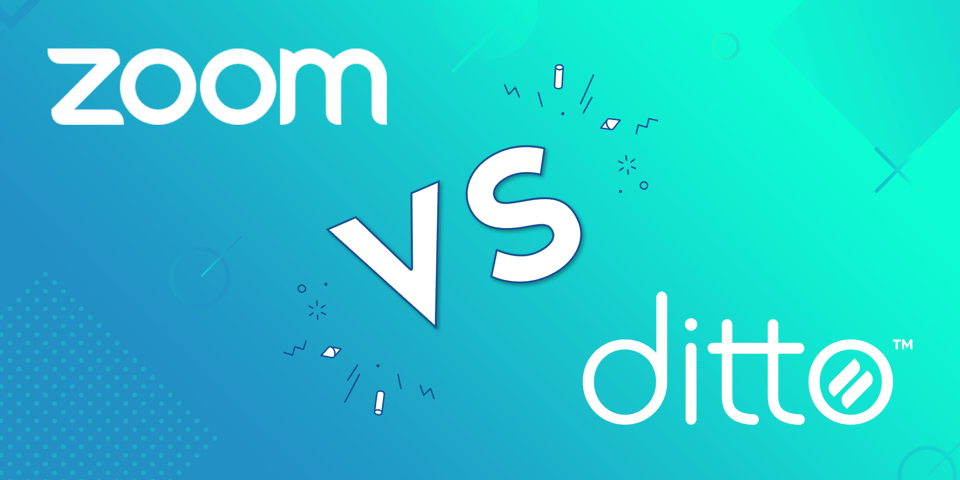 You're researching presentation solutions for your business and comparing screen mirroring technology. Any of these sound familiar?
You don't want to pay for technology you won't actually use.
You know the features and functionality your organization needs, but you're tired of Googling.
It's difficult to find the information you're looking for on product websites.
We're here to help.
We created an in-depth breakdown of everything you need to know about two wireless presentation solutions — Ditto and Zoom Rooms. It gives you all the details you need to make an informed decision fast. Three main questions should guide your research.
The top three things to ask about Ditto and Zoom Rooms:
We tested both products for ourselves. Get detailed answers to each of these questions in our Ditto vs. Zoom Rooms review. This balanced comparison is full of research, tech specs and real-world examples.
1. User Experience
Are Ditto and Zoom Rooms easy and consistent to use, or does functionality differ between different devices and platforms? (Only one of these is used the same way across all devices.) Will either product create more or less tech support requests?
2. Compatibility
How compatible is Ditto or Zoom Rooms with all my devices? Are certain features lacking on different platforms? One of these solutions doesn't support Android or Chrome OS devices — see which one here.
3. Cost
What's the five-year cost to own? How will I see a return on my investment? Would you believe us if we told you one of these wireless presentation products is over three times more expensive than the other for one year? See for yourself.
Get answers to all of these questions and more in our complete Ditto vs. Zoom Rooms comparison.
Get it now