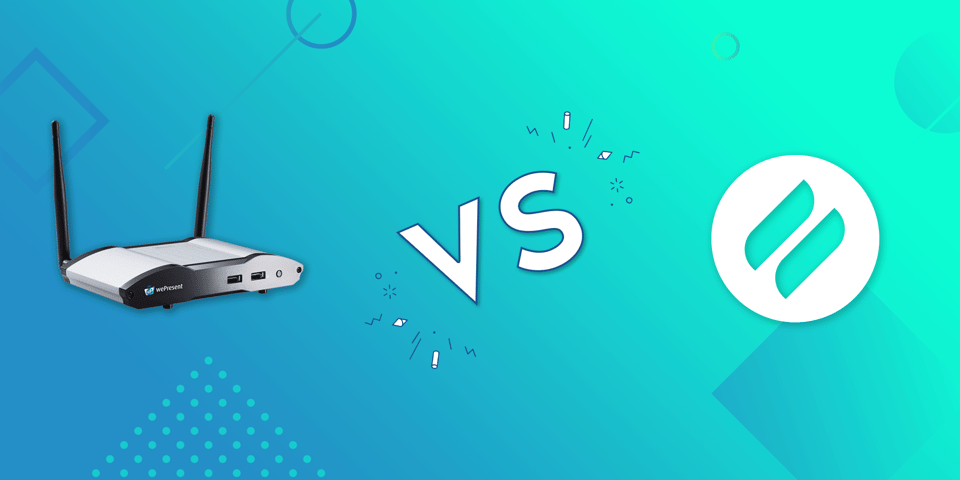 Your quest to find the wireless presentation technology that works best for your organization is no small feat. But you're on the right path, friend. We thoroughly examined two options for you: Ditto and wePresent. We compared both products using in-depth research, tech specs and real-world experiences.
You can read all about Ditto and wePresent in our complete review here.
To aid your journey evaluating wireless presentation technology, we assembled a list of questions you should answer before arriving at your destination.
The top five things to know about Ditto and wePresent:
Get detailed answers to each of these in our complete Ditto vs. wePresent review. We actually tested both products for ourselves to get the most accurate results.
1. User Experience
What's the user experience like for Ditto and wePresent? Will these products create more or less tech support requests?
2. Consistency
Are Ditto and wePresent consistent to use, or does functionality differ between different devices and platforms? Will users have to learn new actions every time they use a different device? See which product works the same way across all devices.
3. Compatibility
How compatible is Ditto or wePresent with all your devices? Are certain features lacking on different platforms? One of these solutions has limited iOS and iPadOS support — discover which one in the complete review.
4. Setup and Management
How easy is it to deploy and manage Ditto or wePresent? Is remote management simple or does it require substantial setup and network modifications?
5. Cost
What's the cost to own? How about the five-year cost to own? Are there upselling tactics or hidden management costs for Ditto or wePresent? Discover which solution restricts certain features unless you upgrade to the highest price tier.