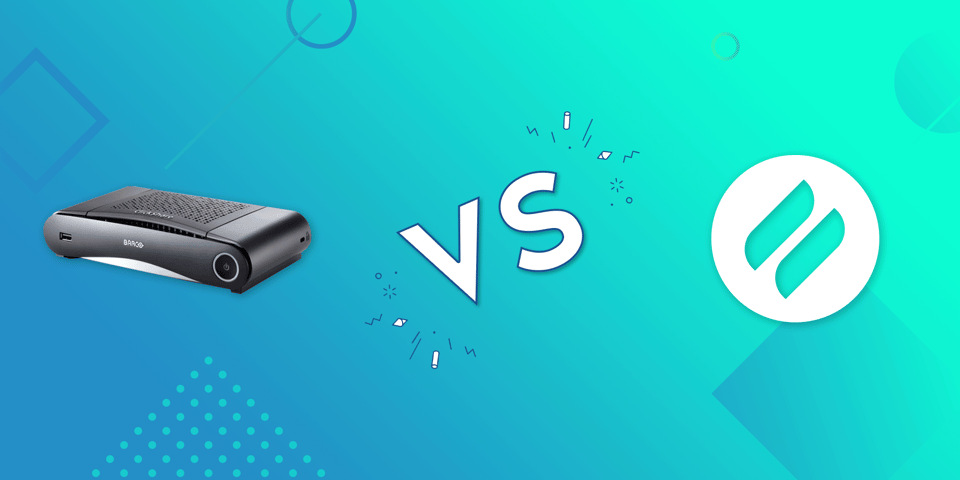 It's never easy. Making a decision that impacts others in your organization can feel isolating and stressful.
Are you stuck weighing the pros and cons of wireless content sharing technology for your team? We're here to help.
We thoroughly researched Ditto and Barco ClickShare and placed our findings in an in-depth article to give you all the info you need to make an informed decision, fast.
Read the full Ditto vs. ClickShare breakdown here.
Consider these when comparing Ditto and Barco ClickShare:
You can read detailed answers to each of these in our Ditto vs. ClickShare review. It's a balanced comparison between the two products based on research, tech specs and real-world experiences.
1. Reliability
How stable are connections between devices? Does the physical position of the hardware matter for the product to work well? Find out how much location impacts connection quality for ClickShare and Ditto.
2. Compatibility
How compatible is Ditto or ClickShare with all your devices? One of these has limited support for mobile devices and doesn't support Chromebooks. Find out which features are lacking on which platforms.
3. Ease of Use
How cohesive and consistent is the user experience between different devices and platforms? Can even the most timid technology user understand how to use each product without intensive training?
4. Scalability
How easy is it to deploy necessary updates organization-wide? Is setup simple or time-consuming for large installations? One of these products includes an all-in-one management portal.
5. Cost
What's the five-year cost-to-own? Discover replacement costs and how much management hardware will cost you.
Find answers to these questions and more in our comprehensive Ditto vs. ClickShare comparison.
Get it now