Did you know that over 800,000 mobile games are available on the App Store? That equates to over a third of the 2.2 million apps offered to iOS users. Did you also know that 75% of revenue generated from the App Store comes from mobile gaming?
That got us thinking: If that many games are housed on the App Store and they generate that much revenue, what technology are people using to show off their skills?
Social video platform services such as Twitch offer gamers an opportunity to turn their recreational hobby into interactive gaming experiences that others can enjoy. Programs such as Gameshow, XSplit and Open Broadcasting Software (OBS) offer a way for enthusiasts to stream gameplay and connect with friends and fans over a shared love of games.
We decided to put Gameshow to the test (we've already tried out OBS) to see how it works with our Reflector screen mirroring solution. Pairing Reflector with Gameshow eliminates the need for a lightning or USB cable to connect your device to your computer.
1. Create Twitch Account
To start your streaming experience, you need to sign up for the streaming service, Twitch. On the top right of the Twitch website, select "Sign Up" to create your account. Don't worry, it's free!
2. Download and Install Gameshow
Now that you have a Twitch account, you will need to download and install Gameshow (also free) to share your gaming with the world. This software is compatible with Windows 7 SP1 64-bit, Windows 8.1 64-bit, Windows 10 64-bit, MacOS X El Capitan and MacOS Sierra.
3. Stream Mobile Games to Twitch
To start, open Reflector 3 to wirelessly mirror your device screen to your computer instead of using a cable. Connect your mobile device to Reflector using its native AirPlay or Cast technology. We recommend mirroring your device screen to Reflector first.
Open Gameshow from your computer Applications.
Gameshow may prompt you to "Register" to be informed about new features and updates. Select "Skip" or "Register."
Click "Start Streaming."
Choose a template for your stream. You can choose one that is already formatted for the game you are streaming, or you can make your own.
In this example we chose to use the "Game" template. Yours may differ.
Click "Next"
Next is configuring your document

Stream To: Twitch
Game Title: Enter and select the game you want to stream
Encoder (we are using x264)
Encoder Settings (we are using Twitch: 720p30 x264 1250 kbps)
Twitch Server

Click "Next"
Continue configuring your document

Game Source Type: Computer
Game Process: Select Reflector 3
Window: Your device name and type should automatically appear (if your device is connected to Reflector 3)

Click "Next"
The Gameshow window will appear on your screen
The document that you just configured will appear under "Master Layer 1" in the template you selected
Click on your document so it appears in your preview in the Gameshow window
Click "Output" in the menu bar and select "Output Settings"
Select your stream settings

Destination: Twitch
Authenticate Twitch account
Ingest Server (same as what you selected when configuring document)
Encoder (same as what you selected when configuring document)
Encoding (same as what you selected when configuring document)
Optional: Record Settings

Click "OK"
Click "Output" in the menu bar, hover over "Start/Stop Broadcasting" and select "Start Twitch: [stream key]"
Click "Output" again, hover over "Twitch" and select "Active Broadcast." This will open up your Twitch account in your preferred browser.
Click "Go" below your preview window in Gameshow

21. What you see in the Gameshow window should be the same image that appears in your "Video Preview" on your Twitch dashboard page and on your channel homepage. There may be a slight delay of up to 30 seconds.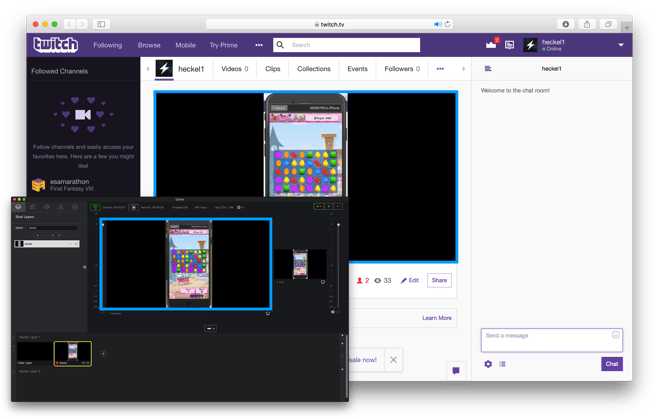 Note: It may take a few minutes to connect depending on your network conditions. Additionally, you may need to refresh the Twitch website if the stream does not appear immediately.

Now you're ready to share your gaming skills with your Twitch audience. Get the Reflector screen mirroring software to begin live streaming your iOS or Android devices to Twitch.
Related reading
How to Live Stream Android, iPhone and iPad Games to Twitch Using Reflector and OBS
How to Mirror Oculus Go to Your TV or Computer